Philadelphia — With two starters on the bench, Wake Forest had a different look against Temple.
The postgame celebration wasn't quite the same, either.
Reserve Trent Strickland scored all nine of his points in the final nine minutes to lead the sixth-ranked Demon Deacons to a 67-64 victory over Temple on Monday night.
It's usually Chris Paul or Eric Williams, who along with Paul was benched for the opening minutes for being late for the team bus, or All-ACC guard Justin Gray who draws the attention.
Not this game. It was Strickland's turn to hear the praise.
"I don't think we win the game without Trent Strickland," Wake Forest coach Skip Prosser said.
Paul couldn't stop talking about his teammate.
"Trent Strickland is a winner. He stepped up big for us on both ends of the court. We have to give him a game ball," Paul said. "He gets the emotion going for us."
Wake Forest clinched the win by going 5-for-6 from the free-throw line in the final two minutes.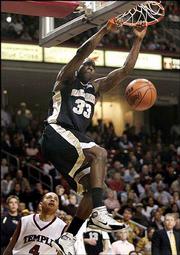 Williams had 17 points for the Demon Deacons, while Gray added 15. Paul finished with nine points and eight assists for Wake Forest, which was coming off a nine-day break for exams.
Mardy Collins had a season-high 25 points for Temple (3-5), which had a chance at tying the game but freshman Dustin Salisbery's three-pointer hit the rim with one second to play.
No. 20 Mississippi St. 74, New Orleans 59
New Orleans -- Shane Power scored 17 points and Mississippi State extended its road winning streak to 13 games.
Lawrence Roberts and Jamall Edmondson each scored 14 points, Ontario Harper added 11 and Winsome Frazier finished with 10 for the Bulldogs (8-2).
New Orleans' Bo McCalebb, who ranks 10th in the nation in scoring with a 22.5 point average, was limited to 16 points.
Copyright 2018 The Associated Press. All rights reserved. This material may not be published, broadcast, rewritten or redistributed. We strive to uphold our values for every story published.