It started showing up in popular teen magazines like YM and Seventeen. Then kids on TV were doing it, too.
Suddenly, knitting had moved from grandmother's sewing room and landed smack in the middle of pop culture.
"It just seemed like it was creeping up everywhere," said Kim Patton, young adult specialist at Lawrence Public Library. "We had some kids who were just starting to learn, and it seemed like the big thing across the nation. So we thought we'd see if we could start something here."
Teens have been gathering in the Zone at the library every Wednesday since September, learning to knit scarves and other simple items. The library provides the equipment, instructional books and a teacher. The program probably will expand next semester to include more difficult kinds of knitting for teens who have mastered the scarf and the potholder.
"We have bright and furry yarn, so you can do some of the more fun stuff," Patton said. "If kids come in here, they can get a taste of it before they go and spend $40 on a class, and they can use our needles and yarn until they're sure they like it. Then, hopefully, we'll kick it up a notch next spring."
The Zone also has music and snacks, making for a social atmosphere. Teenagers can knit while they chat with friends, listen to a book on tape or music, and even get tutored.
"We just sit around and laugh and knit," said Kirstin Wiegmann, who teaches knitting in the Zone at the library. "Knitting is something you can do while you're doing something else. We have popcorn, music. That's us: snacks and fun."
Gwen Pennewell, Lawrence High School senior, picked up knitting in eighth grade. Her music teacher taught her and some friends after school, and she's been knitting in her free time ever since. She mostly knits scarves, she said, but sometimes she gets patterns from books, too.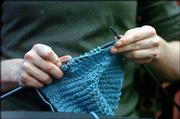 "It's a fun thing to do," Pennewell said. "And it's not something that most people can do. It's something I can do at home while I'm watching TV."
Knitting skills also can have a commercial advantage. Following simple patterns and choosing yarns of different types and colors, teens can create the scarves and ponchos sold in stores from Target to Nordstrom.
"Young people like it because it encourages camaraderie," said Wendy Kim-Luellen, employee at the Yarn Barn. "It's also a relaxing thing to do, once you've mastered some of the basics. The first two weeks are relaxing, but you start to feel very productive. You can really add to your wardrobe."
The Yarn Barn, 930 Mass., offers workshops and instruction for different levels of knitters. While they offer occasional classes for young people, Kim-Luellen said, older teens would be comfortable taking an adult class.
Although books and classes are available in the community, most teenagers have a source even closer. Lawrence High School, for example, offers a sewing class in which students can choose projects in knitting, sewing and quilting.
"Quilting is incredibly popular, and with the diversity of quilt options, there seems to be something everyone can like," said Shannon Wilson, LHS family and consumer sciences teacher. "I have attributed the popularity of Home and Garden TV and the Food Channel as being responsible for young people becoming more interested in the domestic arts."
In a twist that keeps some facets of knitting close to home and hearth, a lot of mother-daughter pairs are learning to knit together, Kim-Luellen said. The pairs share a new experience and bond over both the frustrations and the joys of making something by hand.
"I'm teaching two teens to knit, and they're catching on and enjoying the process," Kim-Luellen said. "Knitting dates back so far, and every new generation that is attracted to knitting is another generation that it sticks around."
Copyright 2018 The Lawrence Journal-World. All rights reserved. This material may not be published, broadcast, rewritten or redistributed. We strive to uphold our values for every story published.