Haskell Indian Nations University employee Nathan Anderson admitted he was a bit reluctant to haul the sign to Arrowhead Stadium for the Big 12 Championship game between Oklahoma and Colorado.
"I don't usually try to be a highlight," he said. "I just wanted to go and enjoy the game."
But a call from his sister-in-law convinced him that the Dec. 4 game in Kansas City, Mo., might offer an opportunity to send a special message to a member of the armed forces: Anderson's niece, Pfc. Leslie Montemayor, a member of the Army National Guard who is stationed at Camp Taqaddum in Iraq.
Sure, it was a long shot. First, Anderson would have to get a cameraman to focus on the sign, which had a greeting with a picture of Montemayor standing next to the Creek tribal flag. And even if he managed to get the sign on screen, there wasn't much hope that Montemayor would see the game live -- it didn't come on in Iraq until 4 a.m.
"She told us that it was going to be on really early in the morning, and didn't think she'd have a chance to watch it that late," said Wesley Montemayor, Leslie's father. "We were hoping to just get a recording of it and send it to her."
But long shot or not, Anderson decided it was worth a try. His tickets to the game had him sitting about 30 rows above the end zone. At halftime, he decided to move closer to the field in hopes of attracting a cameraman's attention.
"There was this nice guy who owned the whole front row, and he had one spare seat," Anderson said. "He said, 'This is your seat the rest of the game.'"
Soon, NFL Hall-of-Famer Lynn Swann, who was covering the game for ABC, walked by and saw Anderson. Swann called up to the production booth, and told them to get a cameraman to shoot the sign. And it happened.
Pretty soon Anderson was getting calls on his cell phone from family members in Oklahoma saying they'd seen him on TV.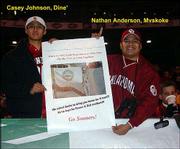 And just as the game ended, he received word that his sign had made it halfway around the world. Leslie's mother called from Oklahoma to tell him that Leslie had awakened early to watch the game and had seen him on television.
"She's been having such a hard time the last month. It's starting to wear down on her emotionally and physically," Wesley Montemayor said. "So I think that this was the Lord's way of giving her some encouragement to help her get over the hump."
Even more, the event helped him feel like he and his daughter were together despite the miles between them.
"Just getting to share that little moment with her, knowing she saw it the same time we did -- that was really special," he said.
For Anderson, though, the whole series of events seemed too good to be true.
"It's one of those events that you look back and think, man, you couldn't have planned that any better," Anderson said.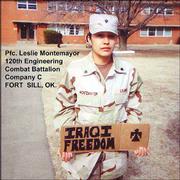 Copyright 2018 The Lawrence Journal-World. All rights reserved. This material may not be published, broadcast, rewritten or redistributed. We strive to uphold our values for every story published.