Miami — Shaquille O'Neal kept his word to injured teammate Dwyane Wade on Monday night.
O'Neal scored a season-high 40 points after Wade left in the first half with a sprained left ankle, helping the Heat win their season-high fifth straight, a 106-83 victory over the Washington Wizards.
Wade badly wanted to keep playing, but O'Neal wouldn't let him.
"He was limping real bad," O'Neal said. "I told him, 'Flash, take the game off. I'll go out and do the work.'
"He said, 'If I'm going to take it easy, you have to get 40 or 50.' I told him, 'I've got your back."'
Wade, Miami's leading scorer, was hurt while stealing the ball with 4:19 left in the first half and exited a minute later.
His absence was more "precautionary than anything else," according to a Heat spokesperson.
Wade said he expects to play Wednesday night at Washington.
"I'm not worried about not scoring because I didn't play that long," said Wade, who went scoreless in 18 minutes. "I'm just happy for Shaq to come out and play a dominant game like he did. Just like he said he was going to do."
O'Neal shot 15-of-23 and added 12 rebounds and five blocks as Miami beat Washington for the seventh consecutive time. O'Neal's previous season-high was 34 Nov. 30 against Toronto.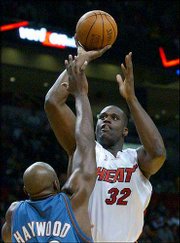 Gilbert Arenas scored 18 points for Washington, which lost for only the third time in 12 games.
Miami's Rasual Butler had 16 points and tied his career high with seven rebounds. Eddie Jones added 14 points and Damon Jones 12 points to go with nine assists.
Kwame Brown added 16 points for the Wizards, who had won two straight.
"There's no game plan that works against Shaq," Brown said. "Anybody who tells you that, they're crazy."
The Heat used a 26-11 run in the fourth quarter -- with O'Neal scoring 12 during the spurt -- to open a 102-80 cushion with 2:35 left.
"That's what we're going to have to do when (me or Wade) go out," O'Neal said. "The other one is going to have to step up."
The Wizards scored just 32 points in the first half -- their lowest output of the season -- and trailed by 11 at the break. Leading scorers Antawn Jamison (1-of-7), Larry Hughes (2-of-11) and Arenas (2-of-9) contributed to 33 percent shooting before intermission.
"Hopefully, that will be the only time that happens this year," Hughes said of the trio's struggles.
"We had good looks, but we definitely can't shoot the ball like that and expect to win."
O'Neal had 15 points, seven rebounds and four blocks in the first half. He scored 10 points to help Miami take a 20-16 lead after one quarter.
"I think the key to the game tonight is that I now have had two and a half months to work with Shaq on his post moves," Heat coach Stan Van Gundy said with a smile.
"And with my expertise down low, his game is coming along."
Suns 121, Magic 100
Phoenix -- Even without Steve Nash, the Phoenix Suns were off and running. Leandro Barbosa scored 19 points in relief of the foul-plagued Nash and the Suns set a team record for best start to a season.
The Suns improved to an NBA-best 18-3, their finest record 21 games into a season in the 37-year history of the franchise. Phoenix has won 14 of 15 for the first time in eight seasons.
"It means a lot," Amare Stoudemire said. "It's down to where I know we're not pretenders, we're contenders."
But Quentin Richardson downplayed his team's record with so many games left to play.
"It's definitely a nice thing, but all of this means nothing if we start going downhill," he said. "We can talk about all that stuff at the end of the year. We've got a lot more goals than just a great start."
Richardson scored 26 points, including 6-of-12 3-pointers, to lead the NBA's highest-scoring team to its fourth 120-plus-point game of the season.
Stoudemire added 21 points, Shawn Marion had 19 points and 10 rebounds and Joe Johnson scored 18.
Nash, limited to 27 minutes, scored a season-low six points but had 10 assists. That's what made Barbosa's performance so impressive.
"That's important for us because that gives Steve some rest," Suns coach Mike D'Antoni said. "It doesn't make us so dependent that we can't do without him."
Grant Hill scored 23 points, Steve Francis 18 and Cuttino Mobley 15 for Orlando. Dwight Howard had 18 rebounds.
Mavericks 94, Bulls 93
Chicago -- The Dallas Mavericks had to make do without Michael Finley for a month as the veteran recovered from an injured ankle. He's proving that it was worth the wait.
Finley capped his 27-point night with a 17-foot jumper with 3.2 seconds left.
Dirk Nowitzki had 21 points for Dallas, despite a poor-shooting night. He was 4-of-18 from the floor, but made 13 of 19 from the free throw line.
After missing a month with a sprained right ankle, Finley is averaging 24 points in his first three games back. He hit 3-point buzzer-beaters at the end of the second and third quarters before sinking the game-winner to give the Mavericks their fourth straight road win.
"We needed him," Nowitzki said. "We needed another shooter back out there who can spread the defense, and make some big shots for us. He's been a huge lift for us."
Chicago's Ben Gordon hit a 3-pointer from the corner to give Chicago a 93-91 lead with 12 seconds left. Nowitzki was fouled by Tyson Chandler with 9 seconds remaining, hit the first free throw, but missed the second.
Dallas' Josh Howard sneaked around Chandler to get the rebound and Chandler knocked the ball out of bounds.
On the ensuing inbounds, Finley got free and knocked down the shot. Chicago's Kirk Hinrich missed a 15-foot jumper as time expired.
Howard finished with 16 points and 10 rebounds for Dallas. Eddy Curry scored 20 points and Luol Deng added 16 for Chicago, who lost to Dallas for the 13th straight time.
Cavaliers 92, Grizzlies 86
Memphis -- LeBron James seemed to be everywhere Monday night, and just to add a final touch, he punctuated his 31-point performance with a slam as the clock wound down. James also had eight assists and a career-high seven steals in leading Cleveland to a 92-86 victory over the Memphis Grizzlies.
James was strong from the start, with 21 points on 10-of-12 shooting in the first half. But the rest of the Cavaliers took a little longer to warm up, especially on the defensive end.
"We gave up 30 (points) in the second quarter and 35 in the second half," Cleveland coach Paul Silas said. "That was the difference in the game."
After falling behind early in the second period, Cleveland erased a nine-point deficit in the third to tie it at 71 on a steal and fast-break slam by James with 1:56 left.
The teams were tied twice in the final period, but Cleveland maintained its pressure and extended its lead to 90-83 on another decisive dunk by James with 45 seconds left.
Cleveland shut down Memphis in the fourth, allowing only 13 points.
"We have been able to keep opponents under 20 points in the fourth quarter all year and that is what we were able to do tonight," James said.
The victory snapped the Cavaliers' two-game skid, after losses at San Antonio and Chicago.
Jeff McInnis added 18 for the Cavaliers, while Zydrunas Ilgauskas and Drew Gooden each had 11. Ilgauskas also grabbed nine rebounds.
Pau Gasol led the Grizzlies with 19 points, and Lorenzen Wright added 16 points and 10 rebounds. Mike Miller finished with 16 points and Stromile Swift had 13.
Copyright 2018 The Associated Press. All rights reserved. This material may not be published, broadcast, rewritten or redistributed. We strive to uphold our values for every story published.