Washington — America's shoppers still have some buying spirit, pushing sales at the nation's retailers higher in November and raising hopes for the holiday season.
The Commerce Department reported Monday that retail sales rose 0.1 percent to $344.4 billion in November from the previous month -- even with a sharp drop in automobile sales.
The newest snapshot of consumers' buying appetite was a bit brighter than the flat showing in sales that economists were expecting.
"The Grinch is heading back down the mountain. It looks like there will be plenty of presents under the Christmas tree after all," said Bill Cheney, chief economist at John Hancock Financial Services. "We're not seeing blockbuster numbers, but what we are seeing paints a decidedly reassuring picture of consumers' financial health and confidence."
To be sure, consumers were more selective in their purchases in November, compared with October. Retail sales increased 0.8 percent in October from the previous month, according to revised figures. That was much stronger than the 0.2 percent increase first estimated.
Consumers spending accounts for roughly two-thirds of all economic activity in the United States.
Especially heartening to economists was a figure in the retail report that is a closely watched indicator of consumers' spending mood. By that gauge, sales at merchants other than automobile sellers rose a solid 0.5 percent in November, exceeding some analysts' forecasts for a 0.3 percent gain.
Economists like to look at that figure because automobile sales can bounce around a lot from month to month.
On Wall Street, the retail report helped to lift stocks. The Dow Jones industrials gained 95.10 points to close at 10,638.32. It was the Dow's best closing level since March 1.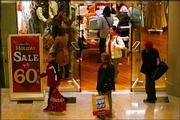 Shoppers in November spent on electronics and appliances, building materials and garden supplies, groceries and other items. They boosted sales at bars and restaurants. But they cut back on cars, clothes, books and music.
"Consumers are still in the game, with many splurging on high-end merchandise," said Rosalind Wells, chief economist at the National Retail Federation.
Overall retail sales in November compared with the same month last year were up 7.2 percent.
Economists believe the October and November retail figures bode well for economic growth. Some say the economy is expanding at a rate of around 4 percent in the final quarter.
The retail report added to the belief that the Federal Reserve will boost short-term interest rates today.
Copyright 2018 The Associated Press. All rights reserved. This material may not be published, broadcast, rewritten or redistributed. We strive to uphold our values for every story published.