Nashville — Two of the league's most disappointing teams put on quite a show in prime time.
And after all the wild plays and big offensive numbers Monday night, a phantom penalty, followed by a nine-yard touchdown catch by Eddie Kennison, lifted Kansas City past Tennessee, 49-38.
"We feel like we hung in there enough to win the game," Chiefs coach Dick Vermeil said. "You go up and down the field exchanging scores ... we're fortunate they didn't have enough time at the end."
Trent Green capped a 64-yard drive in just more than a minute with his third touchdown pass. One play earlier, he was aided immensely by a personal foul on rookie Travis LaBoy for a hit to Green's helmet. But LaBoy clearly hit Green on the shoulder.
"Al (Saunders, offensive coordinator) did a great job that last drive," Vermeil said.
The teams combined for 925 yards, 233 by Titans receiver Drew Bennett, a career high and the most in the league this season. Bennett, a converted quarterback, caught three touchdown passes from Billy Volek, who threw for a career high 426 yards in replacing the injured Steve McNair.
Tennessee (4-9) gained 542 yards and lost on a night that even featured a snow shower in the Music City.
The Titans had gone ahead 38-35 when rookie Randy Starks pounced on Tony Richardson's bobbled handoff at the Kansas City 17, and Gary Anderson kicked a 27-yard field goal with 1:39 remaining. Then the Chiefs (5-8), who got two long touchdown runs from Larry Johnson, surged back.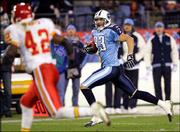 They completed the scoring on Kawika Mitchell's 39-yard return of a fumble as the Titans messed up a lateral play with 8 seconds remaining.
The Titans lacked nine starters, including McNair, last year's co-MVP, when the game began -- and lost three more during it. Still, they led much of the night and came back to tie it 35-35 on a 4-yard TD reception by Derrick Mason moments before Green's exchange with fullback Richardson fell to the ground.
Johnson, who has emerged from coach Dick Vermeil's doghouse with a burst, had TD runs of 46 yards in the third quarter, then 41 yards for a 35-28 lead with 4:49 to go. He rushed for 104 overall on only seven carries in place of injured star Priest Holmes.
"Larry Johnson had some great runs to spark us," Vermeil said. "Trent also did a good job. It was an exciting win for us."
A strong second half allowed the Chiefs to overcome Bennett, who easily bettered Denver's Rod Smith's 208 yards against Atlanta on Oct. 31. Bennett set the season high for yards with a nifty move on a fade pattern for a 7-yard touchdown early in the second half. That gave the Titans a 28-21 lead.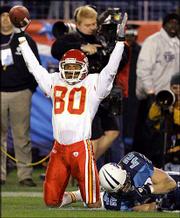 But Johnson broke his 46-yard run, the longest of his two-year career, just two plays after the kickoff to tie it.
"Coming in I was excited, I was pumped," Johnson said. "I did everything I had to do when coach put me in the game."
That's when Tennessee really got creative. On fourth-and-1 from the Chiefs' 46, Craig Hentrich dropped back to punt, but most of his blockers lined up toward the right sideline. Snapper Ken Amato snapped the ball to Troy Fleming behind that wall and Fleming ran for 13 yards.
The Titans should have saved it, because they wound up punting anyway.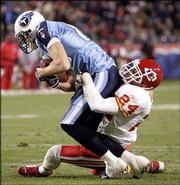 Perhaps tired from all the ground they were covering, both offenses slowed in the fourth quarter until Johnson's decisive TD and the strange ending.
Tennessee's Chris Brown went over 1,000 yards rushing for the season on the opening series, but he fumbled twice. He had a 1-yard TD run before leaving at halftime with a recurrence of his turf toe injury; he gained 91 yards.
He soon was followed to the sideline by tackle Fred Miller and center Justin Hartwig.
Kennison also had a big night that featured a 58-yard TD reception as both defenses kept losing track of opposing receivers.
Copyright 2018 The Associated Press. All rights reserved. This material may not be published, broadcast, rewritten or redistributed. We strive to uphold our values for every story published.