Nine people opposing the upcoming closing of Lawrence Alternative High School spoke at Monday night's Lawrence school board meeting, bringing tears, passionate speeches, 1,578 signatures and a baby.
"I was taunted, I was laughed at," alternative high graduate Samantha Alt said of attending Free State High School. "When I was in school and I raised my hand ... the kids who were picked first were the jocks and the girls who played sports."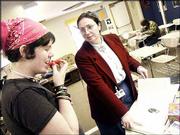 Board member Sue Morgan said Alt and other testifiers' bad experiences at the other schools were regrettable. She said the district aimed to create a culture in schools where students felt secure.
Supt. Randy Weseman, who decided to close the school last month, said he believed the girls' stories.
"We obviously want kids to have good experiences and good feelings about school," he said.
The alternative school, with 79 students, will close at the end of this year, but the alternative program will expand into 14 options -- some at FSHS and Lawrence High School and some outside those schools, including an early-intervention program for struggling ninth-graders at the junior highs.
The programs will include teacher mentoring, social and motivational groups, and personalized learning plans. Some students will take classes at the high schools exclusively with other students in the program. Some will take classes with regular students and some alternative students.
Students who don't want to attend FSHS or LHS can enroll in the district's diploma completion program or the Lawrence Virtual School, Weseman said.
"There are a hundred different stories and needs that no one program or intervention can accommodate," he said. "That's why we need to expand the options."
Alt and several others came with a petition signed by 1,578 people supporting the school. The girls fell short of their 5,000-signature goal, but Alt said signature-gathering would continue.
Weseman said the petition would not sway him from his plan.
"Our programs are developed by solid research, not by polling," he said. "There's an election every two years for board members; that's when people vote."
The alternative high school generally has about 120 students, who are referred to the program through a counselor and administrators.
Weseman said he understood people being upset about his decision. But he said the school costs $750,000 to $1 million each year. He said the district was not closing the school to save money.
"The notion out there that this is some kind of budget cut or we're trying to save money is not true," he said. "With regard to LAHS, I have the choice of spending $750,000 on approximately 70 kids or spending it on 300 or so. I believe the LAHS staff will be able to better contribute to the overall success of more students if we revise our system of learning extensions and alternatives."
All of the school's 21 teachers and other staff will still have jobs in the district next year, he said.
Alternative high school graduate Lindsey Clevenger brought her baby to the meeting, telling Weseman and the board members she got pregnant when she was 16.
"I don't think I would have graduated if I hadn't gone there," she said of the alternative high. "You do have to miss classes sometimes when you're pregnant."
She said she graduated from high school a year early and is now in college with a 4.0 grade-point average.
"I'm going to be a nurse; I might take care of you someday," Clevenger said. "Please keep it open."
Board members said Monday night after listening to Weseman and the public comments that they supported Weseman's plan.
Weseman said he knew those testifying loved the school.
"I think they are rightly so emotionally connected to the school and I see that as a positive thing," he said. "Things change. New information comes along and things change. It's a good plan."
Copyright 2018 The Lawrence Journal-World. All rights reserved. This material may not be published, broadcast, rewritten or redistributed. We strive to uphold our values for every story published.