Imagine the scene: Presents litter the den. Torn wrapping paper and ribbons everywhere. No matter the age, family members survey the loot, gleefully overwhelmed by the visual feast before them. Any guilt over material excess is dismissed by the dilemma to choose what to read, what to build and what to play with first.
Now imagine the possibilities for family fun if this year's toys and games could be enjoyed together. Here are a few suggestions that just may introduce a year-round tradition of game night.
Give it a twirl
BlongoBall, a new twist on outdoor gaming. As singles or teams, you score or take points from an opponent by landing BlongoBalls on BlonGoals. Much like horseshoes, the first to reach 21 points, wins. Easy to play, easy to carry. Case includes two BlonGoals and two sets (yellow and orange) of three BlongoBalls. $49.95; $8.95 for additional BlongoBall sets.
Play ball!
Players young and old can gather around Old Century Baseball, a coffee-table game that pays tribute to the grand old ballparks of years past. Launch the pinball and swing the bat to hit singles, doubles, triples and home runs. Record each batter's performance on actual scorecards while turning movable scoreboard knobs to keep track of the game. $119.99.
In living color
With Mandala Sand Art, families can learn the timeless colored sand art form. Kits includes a full-color booklet with information on the history and uses of the mandala, the mandala coloring book, white glue, sand art boards, sand pens, circle stencils, glitter, sticker sheets with precut designs, two-sided colored pencils and a drawing pencil. $14.95.
Let's rock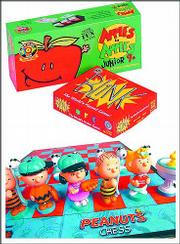 Get ready to rock your world with the Fun with Rock Painting kit. Materials include a full-color instruction booklet with CD, paintbrushes, chenille stems, a glue stick, felt, feathers, glow-in-the-dark paint, beads, googly eyes, craft wire, acrylic paints and a paint-mixing palette. $14.95.
Nuts about Peanuts
The ultimate strategy game with a Peanuts twist. The Chess set features 32 beautiful hand-sculpted, hand-painted playing pieces showcasing the most beloved characters, including Charlie Brown with his baseball gear as King, Sally clutching a valentine, Woodstock in his birdbath, Lucy dropping another baseball, Linus with his beloved blanket and Snoopy as "Joe Cool." Game comes in a collectible tin. $35.95.
Hear the laughter
Apples to Apples Junior 9+, a new version of the popular card and party game now for the entire family. It is as easy as comparing apples to apples. Just select the card from your hand that you think is most like the card played by the judge. If the judge picks your card, you win that round. And, everyone gets a chance to be the judge. Note for parents: expands vocabulary and thinking skills. $16.95.
Blink is the fast game where two players race to be the first to play all of their cards. Using sharp eyes and fast hands, try to match the shape, count, or color on the cards. Be the first player out of cards and win. $9.99.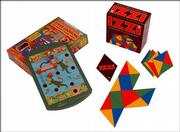 Watch your step
Can the Hiker cross the river without getting up close and personal with 'gators, snakes and piranha? Getting all the way across in River Crossing won't be so easy! Move the planks among the tree stumps to help the hero cross. $14.99.
Riddle me this
Challenging and beautiful, Izzi and Izzi 2 are never the same puzzles twice. In Izzi, match 64 black and white tiles side-to-side to build a square. In Izzi 2, take 12 colorful, diamond-shaped puzzle pieces and add 39 pattern-matching games. $6 each.
A stitch in time
The past is back. Learn how to knit a long skinny scarf; a cozy hat; a sunglasses case; a cell phone sock; and more with this easy Knitting kit. The book comes complete with yarn, knitting needles, a crochet hook, two buttons and a sewing needle. $24.95.
Looney cartoons
Try to create an animated flip book, storyboard and spinning zoetrope with the Complete Drawing Kit for Beginners: Animation. Zany cartoon characters can come to life with the Complete Drawing Kit for Beginners: Cartooning. Each set includes a 32-page project book, drawing pencils, drop-out pencils, a cartooning pen, a triangle, a sharpener, a blending stump, a kneaded eraser and a drawing pad. $14.95 each.
Some like it hot
No need to start a fire. Now you can quickly roast marshmallows with chocolate and graham cracker in the new Hershey's S'mores Maker. Just plug it in and use the two enclosed campfire sticks. $25.
A room with a view
Add color to glass surfaces with Window Art. Just trace a design with Black Outline and squirt the Window Colors to fill in the outline. Peel up the design and stick it on a shower door, mirror or window. Change your mind? Peel and stick it somewhere else. Kit includes an instruction kit with more than 100 ready-to-trace designs. $19.95.
Lost in space
In Cogno: Alien Adventure Game, players choose one of eight alien characters that include carnivores and herbivores, each with different skills for survival in mystery planets. Chances to win fuel cells and high-tech gear abound but watch for the black hole, the time tunnel and the space elevator. Chaos Cards filled with science questions round out the space fantasy game. $29.95.
Math war
Mythmatical Battles is a dueling card game that blends Greek, Celtic, Norse or Egyptian mythology with multiplication. Gods, heroes and monsters, each with an attack strength and a defense strength, use multiplication equations to challenge the opponent, win special cards and change strengths. Game ends when a player's deck is exhausted. $15.99.
Movie magic
Classic characters and songs from Disney and Disney/Pixar movies are now in Scene It? Disney, the latest version of the DVD game. Pop the game disc into your DVD player, enjoy real movie clips and answer trivia questions to race around the game board. Requires a DVD player. $29.98.
CSI for kids
Gather and examine the evidence, prepare a lab for a forensic review, match the clues, name the suspect and solve the cases with the Smithsonian Crime Lab Investigation science kit. Set includes a 300X microscope, plastic slides and covers, graduated cylinder, tweezers, gloves, measuring tape, safety goggles, magnifying lens, collection envelopes, test tubes, synthetic blood, synthetic Anti-A and Anti-B serums, analysis tray, ink bottle, chromatography paper, black and white fingerprint powder, ink pad, sponge, paintbrush, case solution cards and a guide to forensic science. $49.95.
Copyright 2018 The Lawrence Journal-World. All rights reserved. This material may not be published, broadcast, rewritten or redistributed. We strive to uphold our values for every story published.