DETROIT — General Motors Corp. and DaimlerChrysler AG are teaming up to develop fuel-saving hybrid engines in hopes of cashing in on an expanding market already dominated by hybrid leaders Toyota Motor Corp. and Honda Motor Co.
Financial terms of the agreement between GM, the world's largest automaker, and its German-American rival weren't disclosed Monday. But Tom Stephens, GM's group vice president for powertrains, said the collaboration likely would involve an investment of hundreds of millions of dollars.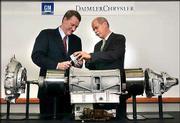 The first of the vehicles is scheduled to debut in 2007. By then, Toyota has said, the company's sales of its hybrid models should reach several hundred thousand worldwide.
Although hybrids overall make up only a minute percentage of global auto sales, Stephens noted that some analysts believe hybrids eventually could account for 5 percent to 15 percent of global volume.
GM, which has worked with DaimlerChrysler on transmissions, also has said it considered hybrids a bridge to longer-range hydrogen fuel cell vehicles, which require no fossil fuel and release no toxic emissions.
"Our planned cooperation will draw on the technical expertise of two of the largest auto companies in the world," DaimlerChrysler board member Thomas Weber said.
Hybrids draw power from two energy sources, typically a gasoline or diesel engine combined with an electric motor.
Copyright 2018 The Associated Press. All rights reserved. This material may not be published, broadcast, rewritten or redistributed. We strive to uphold our values for every story published.