Houston — There were T-shirts and caps to mark the occasion, and Peyton Manning had a huge smile on his face.
Manning got exactly what he wanted Sunday, even without getting Dan Marino's single-season touchdown passes record.
The Indianapolis Colts won the game and clinched a playoff berth. They beat Houston, 23-14, for their second straight AFC South title, which was proclaimed on the attire they brought with them.
"The idea was to get the win. That was the whole idea," Manning said. "You don't want to let these opportunities slip away. ... I need to do whatever it takes to win, and whatever happens along with it is great."
Manning threw touchdown passes on the first two Colts drives to get within two of Marino's 20-year-old record of 48 TDs in a season. But Indianapolis (10-3) didn't get into the end zone again.
He still broke one of Marino's records, just not the one everybody is talking about.
It was his 13th straight multi-TD game, breaking a record held by Marino, Johnny Unitas, Don Meredith and Brett Favre. Unitas was the only other to do it at the beginning of a season, for the Colts 45 years ago in the midst of his record 47 straight games with a TD pass.
After Manning's fast start, the Colts settled for three field goals by Mike Vanderjagt (30, 43 and 44 yards) in the second half.
"That's how it's going to be sometimes," receiver Brandon Stokley said. "You can't score 40 points every time."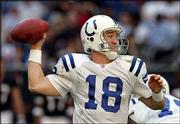 With a chance to become the first NFL team to score 40 points in five straight games, the Colts had a season-low 23. Manning didn't have at least three TD passes for the first time in nine games.
"Every game makes you better, as long as you win," Manning said.
With the Colts' fifth playoff berth in his seven seasons secured, Manning has three games to catch Marino. His next chance comes Sunday night at home against Baltimore.
Manning was 26-of-33 for 298 yards. Reggie Wayne had seven catches for 96 yards, including a 12-yard TD.
Edgerrin James ran for 104 yards on 28 carries and had seven catches for 54 yards.
Domanick Davis had 201 total yards for Houston (5-8). He had 23 carries for 128 yards and a touchdown, and caught six passes for 73 yards.
The way Manning started Sunday, it looked like he would catch Marino by halftime.
"If we win and hold him down, it would be OK," Texans linebacker Jamie Sharper said, taking no solace in Manning only throwing two TDs. "We lost, so it really doesn't matter."
Seven plays after Jason David intercepted a pass by David Carr at the Texans 38, Manning threw a three-yard TD to Marvin Harrison. It was the 13th TD this season for Harrison, who this week signed a $66 million, seven-year contract extension. It also was the 81st between Manning and Harrison, the second-most for a quarterback-receiver duo behind 85 by Steve Young and Jerry Rice.
The Texans then went three-and-out, and Indianapolis went 72 yards on eight plays -- four passes and four runs by James. Wayne's 11th TD reception with 3:37 left in the first quarter put the Colts up 14-0.
"I thought it might be a game where we'd get it going again like we have the last few weeks," coach Tony Dungy said. "It turned out to be a dogfight right down to the wire. I'm kind of glad it went that way because as we move on, the games will be more like that. It was a great test for us."
Indianapolis was sloppy at times, in one sequence having three penalties in a four-play stretch.
Patriots 35, Bengals 28
Foxboro, Mass. -- Tom Brady threw two touchdown passes, and the New England defense held off Cincinnati as the Patriots clinched a playoff berth. The victory was the 27th in 28 games for the Super Bowl champions (12-1). Asante Samuel had a 34-yard interception return for a touchdown for New England, which forced three turnovers for the day. Carson Palmer threw two touchdown passes for the Bengals (6-7), before leaving because of a sprained knee in the third quarter.
Falcons 35, Raiders 10
Atlanta -- The Falcons clinched just their third division title in franchise history as T.J. Duckett set a team record by rushing for four touchdowns. Atlanta (10-3), which last won a division title in 1998 on the way to its only Super Bowl, flopped badly in its first chance to win the NFC South, getting beaten, 27-0, in Tampa last week. But they had their way at home against the hapless Raiders, taking control with a 21-point second quarter. Oakland (4-9) had three turnovers, including an interception returned 39 yards for a touchdown by former Raiders defensive tackle Rod Coleman.
Seahawks 27, Vikings 23
Minneapolis -- Michael Boulware intercepted an ill-advised pass by Randy Moss in the end zone just before the two-minute warning, allowing the Seahawks to hang on for a wild victory. Matt Hasselbeck's three first-half touchdown passes were enough for Seattle (7-6), which came away with just its fourth win in the last 10 games to help its playoff chances in the diluted NFC. Minnesota (7-6) lost for the fifth time in seven games and watched its own playoff plans take a hit.
Saints 27, Cowboys 13
Irving, Texas -- Deuce McAllister ran for two touchdowns, John Carney kicked two field goals, and Joe Horn added a 31-yard touchdown catch as the Saints seriously dampened the Cowboys' wild-card chances. Dallas (5-8) had won consecutive games, including a thrilling 43-39 victory over Seattle on Monday night, but got little offense after leading 10-0 after the first quarter. Instead, they lost at home to a team that had lost three straight and was more curious about its coach's status than its playoff possibilities.
Jaguars 22, Bears 3
Jacksonville, Fla. -- Byron Leftwich threw two touchdown passes, and the Jacksonville defense constantly harassed Chad Hutchinson and the injury-depleted Bears. The Jaguars (7-6) ended a three-game losing streak and remained a game back in the crowded AFC wild-card race. The Bears (5-8), with yet another poor offensive outing, were all but eliminated from the muddled NFC postseason picture. Leftwich finished 25-of-45 for 242 yards. Jimmy Smith caught six passes for 85 yards, and Reggie Williams had his most productive game with four receptions for 62 yards.
Ravens 37, Giants 14
Baltimore -- Kyle Boller threw a career-high four touchdown passes, and the Ravens forced six turnovers from the Giants and a battered Eli Manning. After two straight losses in which they allowed a combined 39 fourth-quarter points, the Ravens' defense held New York's offense scoreless until late, when the decision no longer was in doubt. Baltimore (8-5) converted four of the turnovers into 20 points. Manning went 4-for-18 for 27 yards and two interceptions -- a 0.0 quarterback rating -- before being replaced in the fourth quarter by Kurt Warner.
Bills 37, Browns 7
Orchard Park, N.Y. -- Playing for the first time in two months, Troy Vincent had an interception, fumble recovery and sack as the Bills won their fourth straight game and six in their last seven. Buffalo (7-6) held the blundering Browns to 17 yards on 46 plays, forcing five turnovers and adding eight sacks. Cleveland (3-10) had two yards with 9:34 left in the game, flirting with the NFL record of minus-7 yards, set by Seattle in 1979, but managed 15 yards on its final series.
Steelers 17, Jets 6
Pittsburgh -- Jerome Bettis and Curtis Martin went over 13,000 yards rushing, but Bettis will be remembered most for a 10-yard touchdown pass that helped the Steelers clinch the AFC North. Bettis completed the throw to Jerame Tuman three plays after surpassing the 13,000-yard barrier early in the fourth quarter to break a 3-all tie. Bettis also ran for a late touchdown -- his career-high 12th this season -- after Ben Roethlisberger's 46-yard completion to Lee Mays. Roethlisberger kept his unprecedented rookie winning streak going, winning his 11th in a row in the NFL and 24th straight the last two seasons, counting his final 13 games at Miami of Ohio.
Chargers 31, Buccaneers 24
San Diego -- Donnie Edwards intercepted Brian Griese's pass and returned it 30 yards for the go-ahead touchdown with 4:09 left as the Chargers won for the seventh straight time. San Diego (10-3) moved closer to its first playoff berth in nine seasons. The Chargers have won 10 games for the first time since their 1994 Super Bowl season, a huge turnaround from their recent misery of losing at least 10 games five times in the last seven seasons.
Packers 16, Lions 13
Green Bay, Wis. -- Ryan Longwell's 23-yard field goal lifted the Packers (8-5) into first place in the NFC North over Minnesota. The Packers led for just two seconds -- the time left after Longwell's kick as the Lions (5-8) blew a 13-0 halftime lead. Longwell's third game-winning field goal in five weeks capped a 10-play, 37-yard drive after the Packers got the ball back at the Detroit 42 with 3:27 left and the wind at their backs.
Panthers 20, Rams 7
Charlotte, N.C. -- Playing like it did during its run to the Super Bowl last season, Carolina pulled into the thick of the NFC wild-card hunt. It was the fifth consecutive win for the Panthers (6-7) and moved them into a tie for the final NFC wild-card berth -- unimaginable after they opened 1-7 and lost starter after starter to season-ending injuries.
Broncos 20, Dolphins 17
Denver -- Backup Tatum Bell rushed for 123 yards, and Jason Elam kicked a 50-yard field goal with 2:50 left in a strange victory. Bell replaced fumble-prone Reuben Droughns early and ran for two scores, but left shortly after because of a sprained shoulder that could end his season. That forced Droughns back into the backfield after he fumbled twice -- losing one -- on his first four carries.
49ers 31, Cardinals 28, OT
Tempe, Ariz. -- The 49ers blew a 25-point lead, but Todd Peterson's 31-yard field goal in overtime gave them their second win of the season. It was the same score as in the teams' first meeting Oct. 10, when Arizona blew a 16-point lead late in regulation and lost in overtime on Peterson's 32-yarder. Maurice Hicks, who had 139 yards rushing, set up the winner for San Francisco (2-11) with runs of seven and 17 yards.
Eagles 17, Redskins 14
Landover, Md. -- Andy Reid moved ahead of Joe Gibbs. Just barely. In a game much tighter than form would have predicted, Philadelphia held off Washington, winning its fifth straight and propelling Reid past Gibbs into first place in winning percentage among active coaches. A 10-point third quarter, capped by Dorsey Levens' one-yard touchdown run, gave the Eagles a 17-7 lead and just enough cushion to withstand a fourth-quarter Redskins comeback.
Copyright 2018 The Associated Press. All rights reserved. This material may not be published, broadcast, rewritten or redistributed. We strive to uphold our values for every story published.