Lawrence resident Alan Miller believes there are now 35 million reasons Lawrence Memorial Hospital should reopen its inpatient mental health unit.
Miller, a real estate agent with RE/MAX Professionals, plans an aggressive campaign to convince LMH officials to reopen the unit it closed in May amid staffing and financial concerns.
On Thursday, he said the idea became clear to him after he learned the hospital was contemplating a $35 million expansion of its facilities and likely will begin a $5 million public fund-raising campaign to help pay for the projects, which do not include reopening the mental health unit.
"When we lost the psychiatric unit, it went out very quietly," said Miller, who has been a mental health advocate since helping a family member receive treatment years ago. "This expansion of LMH is a perfect opportunity for us to raise our voices."
Miller said he hoped to organize a public meeting so LMH officials could hear the problems the closing created. He also said he hoped to organize like-minded people to monitor the issue and enlist support from national advocacy groups to which he belongs.
"I'm pretty confident I'll have enough bodies to wage a fight," Miller said.
Push needed
Lawrence advocates for the mentally ill were pleased to hear it.
"I have always thought if we see any progress on this issue, it will be because the community demands it," said David Johnson, chief executive of the Bert Nash Community Mental Health Center. "It certainly won't be because Bert Nash demands it. This issue is really waiting on a community push."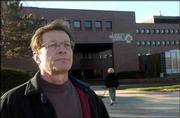 Gene Meyer, president and chief executive of LMH, said he believed reopening the unit would be difficult. He said he did not question the need in the community, but he said it wasn't always feasible for a hospital to provide service for every need.
"Unfortunately, no institution or hospital can be all things to all people in the community," Meyer said. "I'm not sure reopening it would be the best strategy. I'm just not sure the market is here."
The unit was serving, on average, four people per day when it closed. Meyer said its peak usage was only slightly higher than that, though specific numbers weren't readily available.
The hospital began closing parts of the unit in September 2003, when three psychiatrists resigned. Hospital officials at that point began accepting only patients age 65 years or older. In March, another psychiatrist resigned, which forced one doctor to be on call 24 hours a day to staff the unit. Hospital officials said that was unacceptable and closed the unit May 1.
LMH officials also cited financial concerns when they closed the unit; they said its losses were steadily growing and would top $330,000 by 2008.
'Not Timbuktu'
LMH replaced the unit with a consultation service for patients who are admitted to the hospital with physical ailments. If a patient with a physical problem also has a mental health issue, the hospital has a staff member to provide treatment. But people who come to the hospital only with a mental health issue are not admitted.
On Thursday, Meyer said recruiting psychiatrists willing to provide inpatient care was still a major hurdle. Meyer said many psychiatrists were interested in providing only outpatient treatment because the state's reimbursement system makes that a more lucrative practice.
"There's no sense in opening or planning a mental health unit without psychiatrists to staff it," Meyer said.
Miller, though, said he believed the hospital could attract the needed psychiatrists to staff the program if it put forward the proper resources.
"Don't tell me that if you are offering a fair salary to a physician, you can't find a physician willing to come to Lawrence," Miller said. "This is not Timbuktu."
Seeking space
Bert Nash's Johnson said reopening the unit was a "critical" community need because he was confident people were falling through the cracks of the current system.
Johnson said it was much easier to get people to voluntarily commit themselves to a hospital stay when the facility was in Lawrence.
"It is very difficult to voluntarily get someone to go to the Osawatomie hospital," Johnson said. "We have people go all the way down there and refuse to go in."
He said the problem might become worse because the hospital in Osawatomie and the facilities in Kansas City were quickly filling. He said officials with the Kansas Department of Social and Rehabilitation Services had notified him that it was possible Douglas County patients in the future would have to go to Larned State Hospital in western Kansas.
"That is just so far away," Johnson said. "We feel like the community has to pursue something."
Hospital officials are expected to finalize plans for the expansion and $5 million capital campaign early next year. The expansion would include an enlarged emergency department, new or renovated surgery suites, new birthing rooms and a conversion of the hospital's semi-private rooms into private rooms.
Copyright 2018 The Lawrence Journal-World. All rights reserved. This material may not be published, broadcast, rewritten or redistributed. We strive to uphold our values for every story published.