Eudora — It's remarkable that Eudora High's girls basketball team has had the opportunity to win its last two games considering the statistics stacked against the Cardinals.
Tuesday, Eudora's scoring woes cost it a narrow defeat to Topeka Highland Park when the Cardinals scored just one point in two quarters.
Thursday, another negative number affected the Cardinals' chances against Baldwin during the third-place game of the Cardinal Invitational at EHS. Eudora had 33 turnovers, and Baldwin easily secured a 44-34 victory.
"I don't know how we've even hung around," EHS coach Cara Kimberlin said.
Baldwin wasn't much better at hanging on to the basketball. The Bulldogs (3-1) handed the ball over 25 times.
"This game pretty much looked like our last two during this tournament," Bulldog coach Eric Toot said. "We were very intense on defense, but once again could not score during several stretches. Still, I'm so proud of these guys because they're playing as absolutely hard as they can. I think our offense will eventually come around."
The Bulldogs' defensive pressure forced Eudora (1-2) into 12 turnovers in the second quarter, and Baldwin took a 21-18 lead into halftime.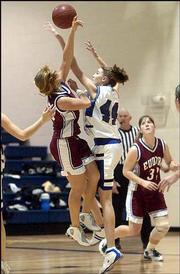 Baldwin built its biggest lead of 10 with five minutes remaining in the game when Katelyn Miles -- who led Baldwin with 15 points -- nailed a three-pointer.
Eudora finally responded with a 6-0 spurt, cutting its deficit to 38-34 when EHS guard Michelle Deluna knocked down a three at the top of the key.
But on a night when creating turnovers seemed to be no problem for either team, Eudora couldn't come up with loose balls and eventually was forced to foul.
"Our team is just not basketball-smart right now," Kimberlin said. "Most of Baldwin's mistakes were correctable errors, such as traveling calls. Ours were just stupid mistakes by players who have been playing far too long to be making those kind of errors.
"We had three or four girls in the same spot on the court, and then we're wondering why we can't create an open shot?"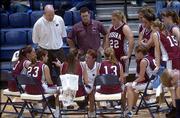 The victory was big for a young Baldwin team.
"Defensively, we are playing really good right now," Miles said. "Obviously, we have a ways to go offensively. But to be 3-1 at this point in the season says a lot about our girls' desire to win, because a lot of people didn't have these kind of expectations for us."
Paola defeated Highland Park, 36-35, in the tournament championship game.
| | | | | | | |
| --- | --- | --- | --- | --- | --- | --- |
| Eudora | 12 | 6 | 7 | 9 | -- | 34 |
| Baldwin | 10 | 11 | 12 | 11 | -- | 44 |
Eudora
-- Erin Kracl 5 2-4 14 Michelle Deluna 1 0-0 3, Kayla Moyer 0 3-7 3, Alissa Hamilton 1 2-4 4, Carrie Lister 4 0-0 8, Emily Gloshen 1 0-0 2. Totals 12 7-15 34.
Baldwin
-- Amy Craig 0 3-6 3, Amanda Vander Tuig 2 -2 5, Ellie Meinen 1 2-2 5, Kelsey Verhaeghe 2 3-7 8, Denise Orloff 3 2-4 8, Katelyn Miles 5 4-4 15. Totals 13 16-25 44.
Copyright 2018 The Lawrence Journal-World. All rights reserved. This material may not be published, broadcast, rewritten or redistributed. We strive to uphold our values for every story published.