LEXINGTON, KY. — A strong defensive effort helped Kentucky overcome poor shooting against instate rival Morehead State on Wednesday night.
Kelenna Azubuike scored 19 of his 21 points in the second half to lead the 10th-ranked Wildcats to the 71-40 victory, holding the Eagles to their lowest point total in 26 years.
Kentucky (5-1) was coming off its first loss of the season, on Saturday at No. 8 North Carolina. Against Morehead State, Kentucky was just 3-of-18 from three-point range and shot 39.4 percent from the field but still won going away. Kentucky has won its last 17 games after a loss.
"Some days you're up," Wildcats coach Tubby Smith said. "Some days you're a feather duster, and some days you're a peacock. That's just life."
Kentucky scored the first 20 points of the second half to turn a tight game into a runaway. Three other players scored in double figures for the Wildcats, including senior forward Chuck Hayes, who recorded his fourth double-double of the season with 10 points and 10 rebounds.
Reserve center Shagari Alleyne had 11 points, eight rebounds and six blocked shots -- all season-highs -- for Kentucky.
"He had probably the best night of anyone as far as all-around play," Smith said.
Morehead State (4-2) trailed only 29-23 at halftime, but the Eagles didn't get their first second-half basket until 11:07 remained. Morehead State -- coached by Kyle Macy, a member of Kentucky's 1978 NCAA championship team -- shot 27.3 percent from the field and committed 24 turnovers.
"They're very talented. I don't think that's a news flash," Macy said of the Wildcats. "I would have liked it if we had responded better and walked out of the gym with our heads up."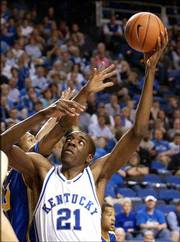 Morehead State had the fewest points by a Kentucky opponent since South Carolina lost 74-40 to the Wildcats in February 1999. It was the fewest points scored in a game by Morehead State since early in the 1978-79 season, when the Eagles had 37 in a loss to Indiana.
No. 19 Virginia 79, Furman 67
Charlottesville, Va. -- Gary Forbes had 21 points, and J.R. Reynolds added 18 for the Cavaliers, who went on a late 20-10 run.
Elton Brown added 16 points and 12 rebounds for Virginia (7-1), which lost, 81-79, Monday night at Iowa State.
Quan Prowell led Furman (3-4) with 14 points.
Copyright 2018 The Associated Press. All rights reserved. This material may not be published, broadcast, rewritten or redistributed. We strive to uphold our values for every story published.