As a fifth-grader, Neil "Deuce" Dougherty played H-O-R-S-E against such former Kansas University basketball standouts as Paul Pierce, Raef LaFrentz, Scot Pollard, Jacque Vaughn and Jerod Haase.
Tonight, Dougherty finally will have something in common with his childhood idols: The former Free State High and current TCU basketball player will play in a college basketball game in Allen Fieldhouse.
Dougherty, son of TCU head coach and former KU aide Neil Dougherty, will come off the bench for the Horned Frogs in tonight's game against the Jayhawks.
Tipoff is 8 p.m. at Allen Fieldhouse with a live telecast on ESPN (Sunflower Broadband Channel 33) and a replay at 10:30 p.m. on Sunflower Broadband Channel 6.
"You could say I've been looking forward to playing in Allen Fieldhouse my whole life," said Dougherty, nicknamed "Deuce" to avoid confusion with his dad. "I don't even know if I could describe how I feel about it. I don't want to underestimate it at all. It'll be a good feeling, but it won't be easy."
Dougherty arrived in Lawrence in 1995 when his dad, a former Leavenworth High standout guard, left the South Carolina staff to accept a job as a Roy Williams aide.
The Doughertys remained in Lawrence for seven wildly successful seasons.
"Any kid growing up in Lawrence ... the only school people want to know about is Kansas," Dougherty said. "It was my dream (to play at KU). I didn't have it planned out, but somehow I thought I'd end up playing in Allen Fieldhouse."
Dougherty has played dozens of pickup games in Allen Fieldhouse, and AAU games, too.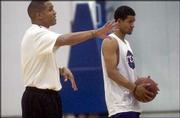 "The first time I went in there was '95 to shoot a couple baskets," Dougherty said. "Stephen Vinson (KU sophomore walk-on) moved here the same year from Atlanta. We'd go up there together and shoot. We were so basketball crazy when we were young. We'd shoot in the fieldhouse and he ended up playing for KU."
Vinson never will forget shooting around in Allen with his buddy.
"Coach Dougherty use to let me and Neil come into the Fieldhouse and let us shoot. He put us through of a couple of his legendary workouts and, I can tell you, they were the hardest workouts I'd done at that point in my life," Vinson said. "He really helped me improve as a basketball player. He taught me a few things that I obviously hadn't learned yet, so I'm definitely thankful for his assistance."
It remains to be seen how much Dougherty will play tonight. He has averaged just over five minutes in six of the Horned Frogs' seven games and has been bothered by a sore hip.
"It's fun for me coaching him," dad Neil said. "It's a challenge separating being a father from a coach. It's harder than what I thought. You are caught in a situation where as a father sometimes you want him to shoot and as a coach you want him to pass to Santee (Corey, senior guard)."
A year ago in Fort Worth, Texas, Kansas reserve guard Jeff Hawkins exploded for 19 points in the Jayhawks' 85-66 victory over TCU, a team Dougherty the dad refers to as, 'the fastest Frogs in Texas.'
"He didn't surprise me. I know what he did in high school. I played against him a couple times," the young Dougherty said of former Kansas City Sumner standout Hawkins. "I wasn't very happy with him that night. Without Jeff, that game is down to the wire."
Keith Langford also helped beat TCU with 24 points off 9-of-10 shooting.
"I think quite a bit of Keith, of all of them," Dougherty said of KU's seniors. "They all have a chance to go pro. Hopefully, they'll do it."
The 6-foot, 181-pound Dougherty also is amazed at the early season performance of senior power forward Simien, who takes a 17.8 point and 13.0 rebound average into tonight's game.
"Wayne is from Leavenworth. Our family is good friends with Wayne and his family," Dougherty said. "He's dominating games. I don't think people give him enough credit. He's so efficient."
TCU has posted wins over Texas Tech (83-68), Florida State (71-70), Texas-Arlington (90-61), Shawnee State (74-60) and North Texas (62-58) with losses to Texas A&M-Corpus; Christi (85-79) and Old Dominion (67-62). The Frogs are led by guards Corey Santee and Marcus Shropshire, who average 13.7 and 12.7 points.
"Our backcourt is our strength," Dougherty said. "I think Santee is great and Marcus is one of the best shooters in the nation. We have a lot of work to do. We've shot it well in our wins. We haven't shot it well in our losses."
Whether the Frogs can give Kansas a game remains to be seen.
"I hope my jitters will be gone in warmups," Dougherty said. "It's a great place to play but a tough place to play for the visitors. I think it'll be good for our team no matter what."
¢
Return of the Fireballs: The 29th and final student group on the list of campers for tonight's game is "Neil's Atomic Fireballs." Yep, the group is still alive. It's named after Dougherty's old habit of bringing Atomic Fireball candy to every game during his years here.
Dougherty used to provide Fireballs for Jayhawks unable to compete because of injury. They had to suck on the fireball without ever biting it to "take one for the team."
"I don't think I'll have to bring any. I think they'll be sitting there," coach Dougherty said of the scorers table. "I still have my Fireball T-shirt the students from the group gave me. It's at my house. The only player who ever liked them was Lester Earl. He'd come in my office and grab one out of the jar. T.J. Pugh would run away."
¢
Good fans: KU coach Self prefaced his answer to a question about this year's crowds at Allen Fieldhouse by saying, "We have the best fans in the world. Every time we walk out there it's a full house."
He wouldn't mind the decibel level of the fans increasing a bit, however.
"Sometimes if we're playing teams they are not as familiar with, it's hard to get amped up for the game. Just like players. You can tell them this team or that team is really good but if they've not seen them on TV they think it's coach-speak," Self said.
"There will be a lot of games we play in the last five minutes it will be anybody's ballgame. Our crowd has to play a role on both ends of the court, primarily defensive to help us get stops and understand how important those possessions are. Our crowd has been really good in spurts but they haven't been as geeked up as what they are going to be."
Notes:
Kansas leads the all-time series, 3-0, including a 85-66 victory over the Horned Frogs last year in Fort Worth, Texas. Keith Langford, a Fort Worth native, had 24 points last season to lead the Jayhawks.
Aaron Miles needs 25 assists to become the Big 12 Conference's career assists leader and 36 to become KU's all-time leader.
Miles was 1-for-9 from the field in KU's opener against Vermont. Since then he is 13-for-19, including 6-of-7 from beyond the arc.
TCU is led by Corey Santee and Marcus Shropshire, who average 13.7 and 12.7 ppg. Shropshire is a Texas Tech transfer.
"As far as the bodies they put out there and the pressure, they'll be as quick or quicker than any team we play," KU coach Bill Self said. "Quick teams are always hard to guard regardless."
TCU has one win in 45 tries all-time against ranked foes on the road and never has beaten a team ranked higher than No. 6 anywhere.
Copyright 2018 The Lawrence Journal-World. All rights reserved. This material may not be published, broadcast, rewritten or redistributed. We strive to uphold our values for every story published.