When Robin Hunsaker met her husband, Sam, Monday night at Perkins restaurant, she was expecting a typical evening dinner to be followed by their usual plans to go square dancing.
Little did she realize that Christmas was about to come a few weeks early.
Waiting for her at the table was a Christmas box containing a caramel apple pie her husband said was a gift from their son, Darrell Hunsaker, an Army private who had been serving in Iraq for nearly a year.
"When is he coming home?" Robin Hunsaker asked her husband.
And then, after stepping from a nearby booth, there was her 22-year-old son, red-eyed after spending nearly three days on an airplane, still wearing his desert camouflage fatigues.
Mom and son hugged. Mom's eyes filled with tears. And dad sat back and smiled.
"I was caught completely by surprise," Robin Hunsaker said later.
"I've been trying to surprise her for many years," Darrell Hunsaker said. "I think I got her."
Keeping a secret
For about two weeks Sam Hunsaker had forced himself to keep his wife in the dark about their son's pending return. Two days after Thanksgiving, Darrell called his dad from Iraq with the news that he would be coming home in December and would stay until Dec. 23. They then made plans to surprise Robin.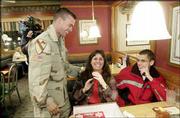 "Everything went as planned, but it's been tough," Sam Hunsaker said of keeping the secret from his wife.
Surprise also came to Darrell's sister, Lahla Hunsaker, who arrived at Perkins to join her family. Darrell's stepbrother Jeremy Williams was let in on the surprise earlier and went with his father to pick up Darrell that afternoon at Kansas City International Airport.
When Darrell Hunsaker was a teenager at Free State High School, he and his mother would get together once a week at Perkins to eat caramel apple pie and talk. It was mother and son bonding, they said.
In 2001 Darrell joined the Army. Trained as a tank mechanic, he was sent to Iraq in January with the 1st Cavalry, 15th Forward Service Battalion, and has been stationed at camps near Baghdad.
"We've really missed him," Robin Hunsaker said. "We've been worried, like all families are. It's very scary."
Darrell Hunsaker had been scheduled to return home on leave several times during the past year. Each time he ended up disappointed, bumped off the leave schedule at the last minute. He admitted the repeated delays demoralized him.
"It made me not want to go to work," he said.
Daily danger
That work required recovering tanks and other vehicles that had broken down or been damaged by roadside bombs.
"Sometimes we'd go out and recover a vehicle, and we got shot at a few times," Darrell Hunsaker said.
Shellings and sniper fire are common, he said.
"Sometimes you can't even go to bed without something flying over you," he said.
American soldiers are finding bombs hidden in walls behind posters of Saddam Hussein, on car bumpers, in animal carcasses and even on bicycles ridden by children, Darrell Hunsaker said.
A few of Darrell Hunsaker's friends have been killed in action. He especially remembers one who had just returned from being home on leave and seeing his baby for the first time.
"It's scary sometimes," he said. "You just get through it day by day."
So far Darrell Hunsaker's only injury has been a broken middle finger on his left hand. He injured it while working on a tank.
Darrell Hunsaker said he didn't know enough about the insurgents to comment on the overall security situation in Iraq. He did say that in areas where he had worked, most Iraqis were cooperating with Americans.
Darrell Hunsaker's unit had been scheduled to return to the United States later this month. On Thanksgiving Day they were told their tour of duty had been extended to March. The news was not good for morale.
"That just kind of shot us right down," he said.
But now, Hunsaker is just glad to be home.
"I've waited 12 months for this," he said.
So had his family.
"I'm just glad for the time that he's here, no matter how long we have with him," Robin Hunsaker said.
Copyright 2018 The Lawrence Journal-World. All rights reserved. This material may not be published, broadcast, rewritten or redistributed. We strive to uphold our values for every story published.