Neil Dougherty figures he might become a bit disoriented Thursday night when he walks through the southwest tunnel onto the Allen Fieldhouse floor.
"I keep thinking I'm going to wander over to the other bench," said Dougherty, Texas Christian's third-year basketball coach.
He had a seat reserved next to Roy Williams on the home team's bench for seven seasons, but Dougherty will occupy the visitors' pine during the 8 p.m. nonconference contest between the Horned Frogs (5-2) and Jayhawks (4-0).
It'll be the 43-year-old Leavenworth native's first visit to Allen Fieldhouse since he left KU to become the 18th coach in TCU history.
"I like being in the fieldhouse with no one there -- just playing pick-up -- much less when it's full," said Dougherty, a member of the 'Lunch Bunch' group that played noon pick-up ball up to five days a week during his years as a Jayhawk assistant.
"It was one of the great things about being at KU. You looked forward to noon. It'd be 11:15, 11:30, I'd walk down the hall and say to Ben Miller, Jerod Haase, Matt (Doherty) before he hurt his knee, 'Are you playing? Are you playing?' It broke up the day."
Dougherty, an all-state guard at Leavenworth High who went on to play college ball at both Army and Cameron University -- KU didn't recruit him -- was a noonball star.
"It all depended if I was on Bud's (Stallworth, former KU player) team or not," Dougherty said, asked about how many points he'd score on a given day. "If I was on Bud's team I passed to Bud. If I was on the other team I'd shoot. There's probably a time I scored every point if I wasn't on Bud's team."
Several Lunch Bunchers figure to be in the stands Thursday, plus Dougherty's parents and other family members. Dougherty's son, TCU sophomore guard and former Free State High standout Neil Jr., will be around, too.
Jayhawk family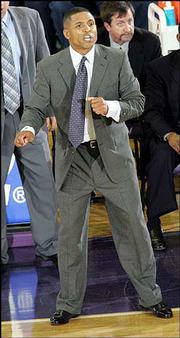 Playing for Kansas will be a batch of players Dougherty considers family -- the seniors he recruited, coached for a year and later visited during the Jayhawks' 85-66 victory over the Frogs on Dec. 1 in Fort Worth, Texas.
"After thumping us, they hugged me," Dougherty said of Wayne Simien, Aaron Miles and Michael Lee, plus Keith Langford and Jeff Hawkins, who exploded for a 24 and 19 points in the game.
"All those guys were our 'Baby Hawks,''' Dougherty said of the players who were freshmen during the 2001-02 season -- Dougherty's last at KU.
"I'd tell them, 'All you have to do is play hard this year. You'll never be blamed if we lose. Guys like Gooden, Hinrich, Collison will be blamed,'" Dougherty said. "We made a deal that the older guys were a blanket and the 'Baby Hawks' got to stay under the comfort of the blanket.
"Keith came over during last year's game, looked at me and said, 'Coach, we're the blanket now.' Things like that make the college game special."
Fort Worth native Langford hit nine of 10 shots against his dear friend Dougherty's team.
"Coach D is the reason I'm here. He got me up here to the cornfields then bounced on me," Langford said with a laugh. "I love that guy. I don't have any complaints."
KU point guard Miles impressed Dougherty with his effort in last year's contest, sprawling in front of TCU's bench for a loose ball.
"Of course Aaron dove for the ball and one of our guys dove for the ball. I said something to Aaron and he looked up and winked at me," Dougherty said. "He's such a great kid. In college, the kids grow up before your eyes so fast. I look at those guys with a special interest, a fatherly eye, maybe."
Miles says Dougherty indeed was a father figure.
"I love Coach D. He helped me a lot my freshman year," Miles said. "I'm happy for him and hope he builds a great winner at TCU."
More love
Dougherty has a special place in his heart for KU senior Simien.
"He's the second best player to ever come out of Leavenworth High School," quipped Dougherty, like Simien a former Leavenworth Pioneer. "He's playing nearly perfect basketball. I have special feelings for him."
Back at ya, Simien says.
"Coach D ... he's my guy. Our relationship extends far beyond basketball," Simien said. "He's a Leavenworth guy. I grew up around him and his family. I hated to see him go after one year, but love to see him doing so well."
Dougherty waited for just the right opportunity before accepting his first head-coaching job.
"I could have stayed forever and been thrilled," Dougherty said. "When jobs would open, I'd tell coach Williams, 'I'm in no big rush. I'm in the number-one college basketball waiting room in America.' It had to be the right situation for me to move, and I think that's TCU."
Slow progress
Dougherty's Frogs, who beat Marquette twice and Louisville once last year, finished 12-17 overall and 7-9 in Conference USA after going 9-19 and 3-13 his first year. This year, the Frogs are 5-2 with good wins over Texas Tech and Florida State and bad losses to Old Dominion and Texas A&M-Corpus; Christi.
"We are not at the stage we are going to win every game," Dougherty said. "We can learn some things from losses. We've had some good wins, but not many follow-up wins. We've got to learn to deal with being happy with the moment and going back to work quickly. We're still learning. We're still growing. We're trying to build a good basketball program."
Like the one at KU.
"The students know basketball better than anywhere in the country," Dougherty said. "I didn't see how it was possible but they got better each and every year we were there. There are not four or five teams playing any better and some pro teams are not playing any better than KU."
Copyright 2018 The Lawrence Journal-World. All rights reserved. This material may not be published, broadcast, rewritten or redistributed. We strive to uphold our values for every story published.