He never has been compared to Magic Johnson or Isiah Thomas ... or, for that matter, Aaron Miles, Jacque Vaughn or Cedric Hunter.
But, hey, Keith Langford can pass the basketball, too.
"I am not a selfish guy," Langford, Kansas University's senior shooting guard, said after collecting a career-best seven assists in the Jayhawks' 81-70 victory over Pacific on Saturday at Allen Fieldhouse. "A lot of games, I'll get five or six assists."
Indeed, Langford, who totaled 243 assists in 108 games his first three years at KU for a 2.25 assist-per-game average, has had six assists in a game on five occasions.
"It's not necessarily something I've been good at awhile," said Langford, who also had 21 points Saturday. "Last year, playing the game without all capabilities, you find a way to pass the ball."
Last year, when bothered by a sore right knee that required postseason surgery, Langford dished six assists at Missouri, at Nevada, at Colorado and at home against Baylor and Texas Tech.
"When he's aggressive," KU coach Bill Self said of Langford, "he can shoot it, pass it, make people guard him. He's a player. He makes plays.
"Sure, I want him to have a lot of assists. I don't think a set number. Just make plays, be aggressive, attack."
¢
Halftime talk: Self was quite animated at halftime with the Jayhawks up by just one point against Pacific, a team favored to win the Big West Conference.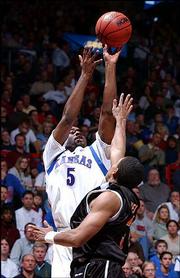 "He jumped on everybody," Langford said. "He said, 'This team is not going away. They are not rattled. They are good.' He said we had to step up. We all know what it's like to lose at home.
"We lost to Richmond last year. It's embarrassing. The feeling of the senior guys. Wayne (Simien) had 15 rebounds. Aaron's stats were incredible (19 points, eight assists, six steals). I could tell he was playing well. I probably had my best game of the year."
Self admitted he was vocal at halftime.
"We talked about a lot of things at halftime. The biggest thing was we didn't guard them. We didn't rebound. If you don't rebound, you don't run as well. We talked about being more aggressive. We also had to get the ball to Wayne.
"We still didn't get it to Wayne a lot."
Simien, who scored just 12 points off 6-of-12 shooting, was shadowed all night.
"There will be some games people put two to three guys around him. He will not get a lot of touches," Self said. "Others have got to step up. We've got to get J.R. (Giddens), Mike (Lee), Russell (Robinson) firing on all cylinders like Keith and Aaron today."
¢
Heroes speak: Simien said the "Night of Heroes" on Friday at Morning Star Church was a great success.
Simien, former NBA standout A.C. Green and others tried to provide a first-hand glimpse to youth about how they can build successful lives based on faith, discipline and hard work.
"It was great," Simien said. "There was a great turnout. He (Green) brought a lot of encouragement in his motivational speaking. It was a lot of fun and hopefully we got the message across."
¢
Wright leads big win: KU signee Julian Wright scored 19 points to help Homewood Flossmoor (Ill.) High to a 69-67 victory over Oak Hill (Va.) Academy at the Marshall County Hoop Fest on Saturday night in Benton, Ky. Self attended the game. Oak Hill, which had won 41 straight games, went down when Wright hit two free throws in the final 10 seconds. He'd been fouled by Jamont Gordon on a drive to the hoop. ... KU signee Micah Downs scored 30 points in Juanita High's 70-41 victory over Barker on Saturday at Juanita's gym in Bothell, Wash.
¢
Next up: KU will next meet TCU at 8 p.m. Thursday at Allen Fieldhouse. TCU is coached by Neil Dougherty, who assisted Roy Williams for seven seasons at KU.
Copyright 2018 The Lawrence Journal-World. All rights reserved. This material may not be published, broadcast, rewritten or redistributed. We strive to uphold our values for every story published.