Aventura, Fla. — The crew of a decades-old cargo plane put the aircraft down in a lake in a Miami suburb Saturday after it developed engine trouble, avoiding high-rise buildings in the densely populated area, then were rescued from the floating fuselage.
The Miami Air Lease plane -- with the misspelled message "Eelect George W. Bush" running the length of the fuselage -- had trouble with one of its two engines shortly after takeoff, said company office manager Alina Nodarse.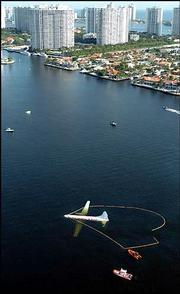 The pilots tried to return the Convair CV-340 to the Opa-locka airport about seven miles away but couldn't make it and splashed down in Maule Lake, said Federal Aviation Administration spokesman Chris White. The lake is surrounded by condominium towers.
"They landed there like that to avoid the buildings," Nodarse said after the rescued pilots checked in by phone.
Pilot Alejandro Bristol and co-pilot Dennis Villavicencio climbed onto the fuselage, and one of them walked the length of the plane before being rescued by a Sunny Isles Beach police boat.
The plane ended up several hundred yards from a marina and farther away from high-rises, floating with half the fuselage and the tips of the propellers rising above the water.
Copyright 2018 The Associated Press. All rights reserved. This material may not be published, broadcast, rewritten or redistributed. We strive to uphold our values for every story published.