Winter in Kansas can be an expensive time for Lawrence resident Ann Brown.
With two young children and the holidays, it can be difficult to keep up financially.
"Some things, like coats, they're just so expensive," she said. "And kids, they grow fast. But you have to keep them warm."
Brown was one of several people who went to the Scotch Industries Share the Warmth coat giveaway on Friday morning to pick out coats. The giveaway will continue from 9 a.m. to noon today at 1800 E. 23rd St., Suite H.
The giveaway was coordinated by the Salvation Army with the help of volunteers. Coat giveaway volunteer Ila Takacs , who has been involved with the program for about 10 years, said people were lined up outside Friday morning for the giveaway. She said about 130 had come to select coats in the first couple of hours.
Scotch Fabric Care Services president Scott Shmalberg said that in the 18th year of the annual coat drive, the dry cleaning chain collected a record 3,085 coats in Lawrence. The company holds a similar drive in Topeka.
"Usually people donate between 2,000 and 2,500 coats," Shmalberg said. "People have done an excellent job of donating to the program this year."
Shmalberg said he could only speculate as to why donations increased, but thought it had to do with the early cold weather and snow this year.
"That may have caused people to think about it," he said. "Also, a number of the schools have little coat drives, and that helps."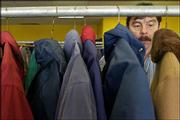 In the 18 years of the program, Scotch cleaners have collected 35,362 coats in Lawrence.
Shmalberg said staff members were a little worn out by this time of the years as the company cleans all of the coats collected.
But he said the event was a good way to help the community and was a time the company and its employees could use their skills and help people in need.
"It's a good feeling to see the coats in use, and this is something everyone in the community can be part of," he said.
Copyright 2018 The Lawrence Journal-World. All rights reserved. This material may not be published, broadcast, rewritten or redistributed. We strive to uphold our values for every story published.