Dallas — Tracy McGrady stood at midcourt, exhausted from an overtime shootout that seemed more like him against Dirk Nowitzki than the Houston Rockets vs. the Dallas Mavericks.
Nowitzki walked to him and they slapped hands and hugged. McGrady said something, and Nowitzki cracked a sly smile.
The winner always gets the last laugh, right?
The Mavericks won the duel, 113-106, Thursday night behind the best game of Nowitzki's career. His 53 points were the most ever by a Dallas player and tops in the NBA this season, which McGrady also surpassed with 48 points.
"It was a great showdown," Nowitzki said. "We winked at each other a couple of times."
While McGrady also had nine rebounds and nine assists, Nowitzki was more impressive because he dominated all over the floor. He had season highs in rebounds (16) and blocks (four), and had three steals, plus seemed to always get them at key moments.
The best display came at the start of overtime, after McGrady missed a free throw with 27.1 seconds left in regulation, Nowitzki passed to Jerry Stackhouse for an ill-advised shot in the closing seconds and Houston's Bob Sura missed a three-pointer at the buzzer.
Nowitzki opened the extra period with his own 10-0 run, highlighted by a tough three-point play when he was fouled by McGrady on a layup and capped by a high-arcing three-pointer that drew the biggest roar of the night and forced the Rockets to call timeout.
In between, Nowitzki also stripped Jim Jackson on a drive when it was 97-93 and knocked the ball from McGrady on Houston's next possession.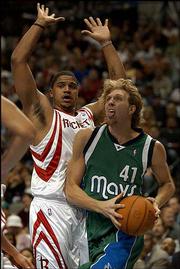 Yet the Mavericks still had to sweat this one out.
McGrady hit a three-pointer with 1:03 left in overtime that made it 108-104. A layup by Jackson with 20.4 brought Houston back within four, but the Rockets couldn't get any closer in losing their fifth straight.
The cable television viewers waiting for the matchup of Cleveland's LeBron James and Denver's Carmelo Anthony might as well have gone to bed early because this one was hard to top.
"That was exciting, it was fun," said McGrady, who was 19-of-36, including 6-of-13 on three-pointers. "I think that was good basketball right there, two guys going at it at a high level. I hope the fans enjoyed it."
Jackson scored 17, and Yao Ming had 13 points and a season-high 14 rebounds before fouling out with 53 seconds left.
Nowitzki finished 15-of-32, and was 21-of-22 from the line.
He topped his season high of 32 early in the fourth, then passed his career high of 42 and matched the NBA season-high of 43 by Cleveland's James on the free throws that came when Yao fouled out. He matched the franchise record of 50 -- held by Jackson and Jamal Mashburn -- on two more foul shots soon after he stole the ball from Jackson.
Cavaliers 92, Nuggets 73
Denver -- The LeBron-Carmelo matchup wasn't much of a contest, and neither was the one between the Cavaliers and Nuggets.
LeBron James had 17 points, eight rebounds and nine assists to help Cleveland embarrass Denver and Carmelo Anthony in front of a booing crowd at the Pepsi Center.
This was the third meeting between the two standouts of last year's NBA draft. Denver swept the series last season and Anthony fared a little bit better than James in the box scores.
This time around, though, James had the better game and the better team, and the verdict was pretty much sealed about six minutes into this blowout.
Anthony missed seven of his first eight shots en route to a 14-point night, in which most of the points came after the Nuggets trailed by 20. He finished 6-for-20 with five turnovers.
James, meanwhile, had the exact opposite kind of game. He distributed and rebounded, didn't force shots and was willing to take a lesser role when other teammates got hot. Jeff McInnis scored 15 points, and Drew Gooden had 10 points and 13 rebounds.
Copyright 2018 The Associated Press. All rights reserved. This material may not be published, broadcast, rewritten or redistributed. We strive to uphold our values for every story published.