Jerry Samp posed the question a few months ago.
"Wouldn't it be great," said Samp, an investment broker, "to bring a pro golf event to Lawrence and make it an annual event?"
Samp's question was answered Thursday when the LPGA Futures Tour announced it would bring one of its 18 events in May to Eagle Bend Golf Course.
"We feel it's the right market," said Tracy Kerdyk, the Futures Tour's vice president of business development. "It's a university town, so that means there's lots of community spirit. We think it can really grab on."
Samp, whose daughter, Kristin, has been playing on the Futures Tour for six years, and Miles Schnaer, who owns Crown Automotive, have been the driving forces behind the scenes.
"This is not an event that competes with charities," said Schnaer, who was involved with the Futures Tour when he lived in Decatur, Ill. "It's a community event that becomes a fun thing. It's a way of celebrating."
Many of the leading money winners on the LPGA Tour -- familiar names like Karrie Webb, Meg Mallon and Kelli Kuehne -- first played for pay on the Futures Tour.
"These are young, bright stars," Kerdyk said. "Over 240 Futures alums have played on the LPGA Tour."
The top five money winners on the Futures Tour automatically qualify for the LPGA Tour. The next 10 finishers move directly to the final stages of the major tour's qualifying school.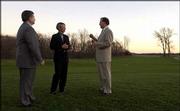 Eagle Bend GC was the site of an AJGA girls tournament in June of 2000. That event lured about 140 competitors. May's tourney will lure about the same number of golfers.
"The Futures Tour is awesome," said Jim Kane, head pro at Eagle Bend GC. "You'll see a lot of good golf. These are pros, not juniors."
The 2005 Futures Tour will begin in March in Florida, then move in April to Texas before coming the first week in May to Lawrence. Practice rounds are scheduled for Wednesday, May 4, and a pro-am Thursday, May 5, before the 54-hole tournament May 6-8.
Lawrence has replaced Wichita, which played host to a Futures Tour meet for four years.
"It ran really well in Wichita," Kerdyk said, "but I understand there were hard times in the airline industry."
Futures Tour officials opted for Lawrence even though the financing is not in place. Samp estimates he and Schnaer will need to come up with between $110,000 and $120,000 in sponsorship money. The purse will be $70,000.
"We think we can make this thing work," Schnaer said.
Kerdyk estimated the five-day event will generate between $250,000 and $400,000 in "new money" for Lawrence businesses.
Not all of the participants, she said, would stay in hotels and motels.
"Our players don't make a lot of money," Kerdyk said. "That's why we ask for private housing of about of about 80 beds. Our players really enjoy being embraced by a community."
Copyright 2018 The Lawrence Journal-World. All rights reserved. This material may not be published, broadcast, rewritten or redistributed. We strive to uphold our values for every story published.