Washington — President Bush rejected calls for a delay in next month's Iraqi elections, insisting Thursday that the vote was too important to put off even though violence and chaos still grip much of the country.
"It's time for the Iraqi citizens to go to the polls," Bush said.
Bush predicted Iraq's elections would leave the world "amazed that a society has been transformed so quickly," but he did not explain why he was so adamant that balloting go forward as scheduled Jan. 30.
A number of Iraqi political parties have urged delay.
Bush last week said he hoped the Jan. 30 balloting would not be postponed, even though 17 political parties in Iraq have urged the interim government to put it off for at least six months. Those groups want security at polling places to be ensured. On Thursday, a Sunni political party official said his organization would push forward with that demand.
But Bush was firmer than ever.
"The elections should not be postponed," he said. "It's time for the Iraqi citizens to go to the polls and that's why we are very firm on the Jan. 30 date."
The Iraqi election schedule has dominated the dialogue in Baghdad in recent days as leaders of the Sunni community, which exercised power under Saddam disproportionate to its 20 percent share of the population, warned they would sit out elections in January that they would almost certainly lose. The Sunnis demanded a delay as long as six months, citing the instability fueled by a Sunni-dominated resistance.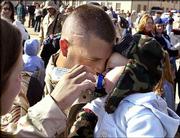 Shiite political leaders and their religious leader, Grand Ayatollah Ali Sistani, rejected the demand and Iraq's interim President Ghazi al-Yawar, a Sunni Muslim tribal sheik, agreed Wednesday that the election would go on as planned.
Analysts said the Bush administration needed the elections for a 275-member National Assembly to be conducted on schedule to secure the legitimacy for a new Iraqi government, particularly in the eyes of the Shiites.
Copyright 2018 The Lawrence Journal-World. All rights reserved. This material may not be published, broadcast, rewritten or redistributed. We strive to uphold our values for every story published.