Today
Lake Forest, 6 p.m. (early show), The Bottleneck, 737 N.H.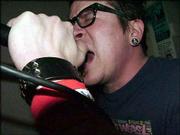 Shevy Smith, 7 p.m., Hawk's Nest, KU Student Union, KU campus.
Smooth Operation, with DJason and Aether, 7 p.m., Gaslight Tavern and Coffeehouse, 317 N. Second St.
"Anchorman," 7 p.m., Woodruff Auditorium, Kansas Union, 1301 Jayhawk Blvd.
"Night of Heroes," for teens ages 10-18, 7 p.m.-9 p.m., Morning Star Christian Church, 998 N. 1771 Road.
"Anything Goes," 8 p.m., Lawrence Community Theatre, 1501 N.H.
"Talk Radio," 8 p.m., Ecumenical Christian Ministries, 1204 Oread Ave.
Unknown Stuntman, Mass Street Murder, Iron Guts Kelly, The Amazing Donkey Show, 9 p.m., The Granada, 1020 Mass.
The Wilders and Midday Ramblers Holiday Hoedown, 9 p.m., Liberty Hall, 644 Mass.
Project Groove Presents: GLUE (Adeem, Maker DJ DQ), Ethereal, 10 p.m., The Bottleneck, 737 N.H.
Leonard Peltier Benefit Concert, featuring Apollo 13, EJ and the Bruce, Deep Thinkers and Savage Family, 10 p.m., Jackpot Saloon, 943 Mass.
Sellout!, 10 p.m., The Jazzhaus, 926 1/2 Mass.
Copyright 2018 The Lawrence Journal-World. All rights reserved. This material may not be published, broadcast, rewritten or redistributed. We strive to uphold our values for every story published.