Peter Stuber likes to sit out on his back porch and watch birds.
He entices them to come near with a tray of birdseed set up about 15 feet from his chair. When a bird lands in the tray, Stuber, 74, of Redding, Calif., picks up a pair of binoculars to get a closer look.
Without the binoculars, the bird would look like a blotch of color in the distance to Stuber.
While he can still see shapes and blotches of color, he is legally blind. He has macular degeneration.
As the population ages, the numbers of residents with sight problems has also increased, said Ginger Carter, a volunteer with the Vision Resource Center, a non-profit agency in Redding.
About 90 percent of the center's clients suffer from macular degeneration, Carter said.
"People are living longer now, so we're seeing more and more people with macular degeneration," Carter said.
The center serves more than 300 clients. About 90 percent of them suffer from macular degeneration, she said.
"It's becoming a huge issue," Carter said.
Macular degeneration causes the light-sensing cells of the macula to mysteriously malfunction. Over time the cells may stop working completely, according to the Macular Degeneration Foundation.
The macula is in the center of the retina, which is inside the back of the eyeball.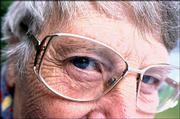 Macular degeneration occurs most often in people over 60 years old, in which case it is called Age Related Macular Degeneration.
Andy Anderson, also a volunteer at the center, said blindness robs people of their independence.
"They've lived this wonderful life and all of a sudden they can't see," Anderson said.
The resource center provides people with the tools they need to become more independent.
With a $30,000 annual budget, the center has little money for wages. Anderson and Carter both volunteer their time showing the visually impaired and blind to use special tools. They also get paid for some of their work. For each hour they work they also donate an hour.
Stuber has numerous tools to help him out at home. Some enable him to perform tasks without using sight.
He has a triangle-shaped clock with no numerals or clock face. When he pushes on the clock a voice speaks the time. The knobs on his stove have buttons that help him determine the temperature settings.
For cutting vegetables, his kitchen knife has an attachment to set the thickness of slices. He has books and magazines on tape and a telephone with large buttons, each one about an inch wide.
Stuber also has a white cane with a red tip that he uses to help him safely walk when he leaves the house.
The tools enable him to perform tasks most people take for granted, said Jeanette Myers, a director for the center and its founder.
"How would you sweep your floor if you can't see your floor?" Myers said.
Ruth Peterson, 85, knows what it is like losing her vision. She has suffered from macular degeneration since 1996.
It was a difficult to adjust to being blind, she said.
She can no longer drive. She can only watch television if she sits about 12 inches from the screen.
Before she getting help from the resource center she couldn't listen to books on tape because they were too expensive.
"Just the books, they replace a lot of boredom," Peterson said.
Peterson said she also goes to monthly support meetings at the center to talk with others who have macular degeneration and who are blind.
"They give you a lot of confidence by telling you it's not the end of the world, that you can still function," Peterson said.
Copyright 2018 The Lawrence Journal-World. All rights reserved. This material may not be published, broadcast, rewritten or redistributed. We strive to uphold our values for every story published.