A scene of makeshift lights, fans watching from a hillside and lots of mud made Veritas Christian's inaugural football game Saturday night seem more like Woodstock.
"It sure had all the key elements of one crazy rock concert," said Veritas senior Paul Kempf, who was one of two key running backs who combined for nearly 400 yards rushing in the Eagles' 58-12 eight-man victory over Kansas City (Mo.) East at Westwick Rugby Complex.
"Everything worked exactly how we thought it would. I couldn't picture a better start for this school," Kempf said of the Eagles, who are believed to have the first high school eight-man football squad in Lawrence history.
Veritas coach Doug Bennett, whose squad played junior varsity last season, said Saturday's inaugural Kansas Christian Athletic Assn. game, watched by about 100 fans, truly was special.
"It's an awesome setting -- everything about Friday night under the lights, just on Saturday," Bennett said. "It's just an unbelievable setting for a bunch of kids from a small private school."
From the start it was obvious the Veritas would make its debut a big-time event. Junior running back Jesse Schultz took the third play from scrimmage 37 yards for the Eagles' first score.
But that touchdown was just the beginning for both Schultz and Veritas' dominating ground game.
On the first play of the Eagles' next drive, Kempf took a pitch to the outside and raced 68 yards untouched for the score and a 16-0 advantage. The field in eight-man football is 80 yards long and 40 yards wide, compared to 11-man football's 100-yard by 53-yard dimensions.
The Lions scored their lone touchdown of the first half on a short run, then it was back to Veritas -- whose slick blue-and-gold uniforms resemble those of the St. Louis Rams.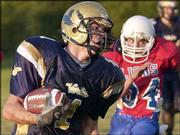 And if the Eagles offense can do the rest of the season what it did in the opener, Veritas might soon need to come up with a catchy motto like the Rams, whose offense was dubbed the "Greatest Show on Turf."
After 24 minutes, Schultz and Kempf had combined for more than 300 yards rushing, five touchdowns, and a couple of bone-rattling hits they delivered while running the ball.
"Those hits really stand out," Bennett said. "I was kind of worried because I thought we might be too hyped up."
Even after the Eagles got a reality check when K.C. East scored on its first possession in the second half, Kempf answered with a 68-yard kick return for a score.
Schultz provided the nightcap with one final touchdown jaunt, giving him 215 yards on 24 carries and five scores. Kempf finished with 170 yards on 18 carries and two touchdowns.
"We have more of a playbook than everyone saw tonight, but the conditions kind of warranted the running," Bennett said. "They work together great. They lead block so well, just very unselfish. Neither of them care who carries the ball, they know what the team goal is."
And, for at least one night, Lawrence saw the magic of the eight-man game from the new Wizards of Westwick.
"It doesn't matter whether you're at Lambeau Field, or in Lawrence, football is football," Schultz said. "And we played football tonight."
Copyright 2018 The Lawrence Journal-World. All rights reserved. This material may not be published, broadcast, rewritten or redistributed. We strive to uphold our values for every story published.