There are 115 area residents who don't moan quite as loudly as everybody else about the high gasoline prices.
They are the employees of Lawrence's Schlumberger production center. The high gasoline prices are a result of record high oil prices, which have been a boon for the Lawrence plant, pronounced (Schlum-bur-jay), because it makes a key component that petroleum companies use to pump oil.
"The prices have been good news for the plant," said Barry Landon, production center manager. "Personally, we don't like to see oil at $40 per barrel because we're all paying for gasoline too. But we're probably more understanding than the average person."
Prices have been so good, flirting with $50 a barrel for the past month, that the plant, 2400 Packer Road, has been in a growth mode for the past two years. Employee levels have grown from an all-time low of 88 in 2002 to 115. Landon is seeking to fill 10 more job positions.
"Our business is probably up 40 to 50 percent over two years ago. This probably will be one of our top two or three years in our history," Landon said of the plant, which has been in the city since 1975.
The plant is taking part in an oil industry resurgence, said John Felmy, chief economist with the American Petroleum Institute in Washington, D.C.
"In 1998, 1999 and early 2000, the industry really was in a recession," Felmy said. "Nobody in the industry had two nickels to rub together and they weren't buying anything. It really hurt the equipment makers, but that has all changed now."
During the recession, oil prices were about $10 per barrel.
Providing power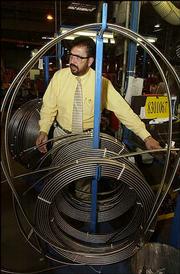 The Lawrence plant provides the petroleum industry with the power to extract oil. It produces about 15 million feet per year of a product known as a power cable for electrical submersible pumps. The cables consist of several strands of copper wire wrapped in rubber insulation and then enclosed in a galvanized or stainless steel armor sheath.
The plant's second product line is magnetic copper wire that is used inside the motors of the electrical submersible pumps.
The cables and copper wire are shipped to Schlumberger plants in Bartlesville, Okla., and Singapore, where the other components of the pumps are made and assembled.
The two product lines require a variety of high-tech equipment. The 350,000-square-foot plant -- which runs 24 hours per day, seven days per week -- is filled with equipment. It has machines that heat and then stretch 6,000 pound reels of copper wire. It also has a miniature rubber manufacturing plant that produces the rubber needed to provide the insulation for the power cables.
Growing market
Landon tells people that the Lawrence plant's purpose is to help the oil industry "defy gravity." He said the old cartoon image of people sticking a drill in the ground and having oil spew into the air is a rare sight in the real world.
"The days of oil coming up naturally on its own are pretty much a thing of the past," Landon said.
Location: 2400 Packer Road in northwest Lawrence.Employees: 115, with plans to expand to 125 this year.Products: The Lawrence plant manufactures power cables for electrical submersible pumps used in the extraction of oil. The plant also produces magnetic copper wire that is used in electrical motors that power the pumps.History: The 350,000-square-foot plant was opened by TRW Inc. in 1975. In 1988, it became a part of Camco International, which operated the plant under the name Lawrence Technology. In 1998, New York-based oil field services giant Schlumberger bought the plant.
That's where electric pumps come into play. The pumps are inserted into the well -- usually about 10,000 feet below the earth's surface, but sometimes as deep as 30,000 feet -- and pump the oil to the surface.
Not every oil well needs a submersible pump, but company officials are betting that they'll become more of a necessity each year. That's because petroleum companies increasingly are having to go after oil that is not easy to extract.
"Whether it is the Middle East or Texas or Alaska, we have already gotten the easy stuff," Landon said. "We have gotten the easy oil out of the ground, so now it is a lot more technically challenging for the industry to get it. That's where we can help."
The increase in oil prices has made companies even more eager to drill in areas that contain difficult to reach oil, which has helped bolster sales of pumps. Landon said oil prices also have enticed producers to restart wells that have been idle for years. Those wells often need new equipment like pumps.
Felmy said equipment manufacturers were expected to benefit from the restarting of old wells and a renewed push for offshore drilling.
"Schlumberger is in a good position to take advantage of all of that," Felmy said.
Bright outlook
New-York based Schlumberger offers more than pumps. It is one of the largest oil field services companies in the world. In 2003, the company posted sales of $13.8 billion.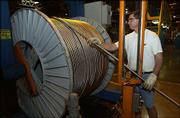 Its strategy is to offer petroleum companies everything that is needed to find, pump and transport oil. The company doesn't release sales totals for its pump division, but Landon said it was an important part of the company.
"What I can tell you is that it is a strategically significant part of the business," Landon said.
Landon said Schlumberger bought the plant in 1998, when it was operating under the name Lawrence Technology, so it could offer all the services needed by a petroleum company.
"What we do here is one of the few pieces in the process that they felt like they were missing," Landon said.
The plant's future in Lawrence seems to be secure. Landon said it was unlikely that the company would move the plant overseas or elsewhere because of the plant's specialized and expensive equipment.
"Some of the factors that have caused some companies to move internationally don't really exist for us," Landon said. "The economics to move us somewhere else don't really exist."
The company's starting wage is $12 an hour and some production positions pay upwards of $20 an hour, Landon said.
"I'd say that we're a cut above the average job in this town," he said.
But the business does have its ups and downs.
When oil prices drop, business can slow dramatically. Landon doesn't think that will happen in the foreseeable future because companies are investing money to drill new wells and create more production.
"The oil companies seem to think that the higher prices are going to be here for awhile," Landon said. "That should be good for us."
Copyright 2018 The Lawrence Journal-World. All rights reserved. This material may not be published, broadcast, rewritten or redistributed. We strive to uphold our values for every story published.