Athens, Greece — A sloppy handoff in the men's 400-meter relay forced the Americans to settle for silver, one hundredth of a second behind Britain.
U.S. anchor Maurice Greene took the baton in second place and, with a burst of speed in the final 30 meters, made up some of the gap behind Britain's Mark Lewis-Francis -- but just failed to catch him. The British won in 38.07 seconds, and the Americans won silver in 38.08. Nigeria took the bronze.
The U.S. relay was undermined by a poor handoff from its second runner, 100-meter gold medalist Justin Gatlin, to Coby Miller.
Morocco's Hicham El Guerrouj became the first man in 80 years to win the 1,500 and 5,000 meters at one Olympics.
El Guerrouj passed Kenenisa Bekele of Ethiopia with about 50 meters left in the 5,000 and finished in 13 minutes, 14.39 seconds. Bekele, who was trying to become the first man in 24 years to win the 5,000 and 10,000 at an Olympics, finished second. Eliud Kipchoge of Kenya, who led until the final lap, won bronze. The first man to win the 1,500 and 5,000 in an Olympics was Paavo Nurmi, who did it in 1924.
Kelly Holmes surged from behind to take the women's 1,500 gold and clinch a rare middle distance Olympic double. The Briton already won the 800 earlier this week.
The United States swept the 1,600-meter relays after the men's team handily won gold in 2 minutes, 55.91 seconds. Otis Harris, Derrick Brew, Jeremy Wariner and Darold Williamson dominated.
Earlier, the women's 1,600 relay team won in 3:19.01. The U.S. women's team of DeeDee Trotter, Monique Henderson, Sanya Richards and Monique Hennagan easily beat Russia, which took silver and Jamaica, which won bronze.
Yelena Slesarenko of Russia set an Olympic record while winning the gold medal in women's high jump.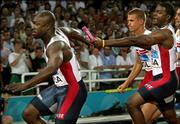 Yuriy Borzakovskiy of Russia won the 800 meters.
Andreas Thorkildsen of Norway won the gold medal in javelin with a personal-best throw of 283 feet, 9 inches.
Women's Basketball
Bronze Medal
Russia 71, Brazil 62
Russia ended a 12-year women's basketball medal drought with a 71-62 victory over Brazil to take the bronze. Diana Gustilina led Russia with 12 points, while Elena Baranova had seven points, four rebounds and four assists in a team-high 30 minutes.
Men's Soccer
Gold Medal
Argentina 1, Paraguay 0
Argentina won its first Olympic gold medal in soccer, beating Paraguay on Carlos Tevez's eighth goal of the tournament. Despite the loss, Paraguay captured its first medal in any sport. Italy won the bronze Friday, beating Iraq 1-0. Already an underdog, Paraguay finished the game with just nine men. Emilio Martinez was ejected for elbowing Andrea D'Alessandro in the face in the 67th minute, and Diego Figueredo received his second yellow card with six minutes left.
Wrestling
American Cael Sanderson won the gold medal in men's 185-pound (84 kg) freestyle, beating Moon Eui-jae of South Korea, 3-1. While at Iowa State, Sanderson became the only four-time unbeaten champion in NCAA history. Sazhid Sazhidov of Russia won the bronze.
Russia's Mavlet Batirov won the gold in men's 121-pound (55 kg) freestyle. He defeated Stephen Abas of Fresno, Calif., 9-1 in the final. Chikara Tanabe on Japan won the bronze.
Elbrus Tedeyev of Ukraine beat Jamill Kelly, of Stillwater, Okla., 5-1 to take the gold in 1451/2-pound (66 kg) freestyle. Makhach Murtazaliev of Russia won the bronze.
Uzbekistan's Artur Taymazov knocked off Iran's Alireza Rezaei to win the gold in men's 2641/2-pound (120 kg) freestyle.
Canoe-Kayak
Schinias, Greece -- Birgit Fischer settled for silver, leaving the 42-year-old Olympian with two medals in two days. The two-woman crew from Hungary overtook Fischer and her German partner in the second half of the 500-meter kayak race, ending her quest for a ninth gold medal. Natasa Janics and Katalin Kovacs won the gold. Poland got the bronze. In single kayak, Janics beat Josefa Idem of Italy, who finished second, and Caroline Brunet of Canada, who finished third.
Cycling
Athens, Greece -- Julien Absalon, whose focus had been on Athens since failing to make France's Olympic team four years ago, pulled away in the second half of the mountain bike race and eased to victory in 2 hours, 15 minutes, 2 seconds. Jose Antonio Hermida of Spain finished second, exactly a minute behind Absalon.
Sailing
Roman Hagara and Hans Peter Steinacher of Austria won the gold medal in sailing's Tornado class. John Lovell and Charlie Ogeltree of the United States won the silver. Santiago Lange and Carlos Espinola of Argentina got the bronze.
Women's Volleyball
Gold Medal
China 3, Russia 2 (28-30, 25-27, 25-20, 25-23, 15-12)
Bronze Medal
Cuba 3, Brazil 1 (25-22, 25-22, 14-25, 25-17)
Ping Zhang led a determined rally past Russia with 25 points in the Olympic final. After dropping the first two sets, China came back to tie -- staying a step ahead of the Russians in the final set. Yuehong Zhang ended it with a spike from the left side. Cuba won each of the last three Olympic championships, but several stars have since retired and the transition hasn't been entirely smooth.
Taekwondo
American Steven Lopez won his second Olympic gold medal by defeating Bahri Tanrikulu of Turkey 3-0 in the under 80-kilogram final. Lopez won gold in Sydney in 2000 at 68 kilograms, but has since switched weight classes.
In the women's under 67-kilogram event, Luo Wei of China beat Elisavet Mystakidou of Greece.
Women's Team Handball
Bronze Medal
Ukraine 21, France 18
Ukraine beat 2003 world champion France to win the bronze medal. Maryna Vergelyuk six goals on seven shots for Ukraine, while goalkeeper Nataliya Borysenko made 15 saves. Denmark faces South Korea for the gold today.
Men's Team Handball
Bronze Medal
Russia 28, Hungary 26
Russian goalkeeper Andrei Lavrov, playing in his fifth and final Olympics, earned a bronze medal when Russia beat Hungary. Lavrov, 42, won his first Olympic gold medal playing for the Soviet Union in 1988.
Rhythmic Gymnastics
Russia, the defending Olympic champion, won another gold in group rhythmic gymnastics, scoring 51.100 points to edge Italy and Bulgaria.
Boxing
Thailand's Manus Boonjumnong pulled the biggest upset of Saturday's five gold medal bouts, using ring movement and speed to beat Yudel Johnson of Cuba, 17-11, in a light welterweight bout. Two other Cubans, heavyweight Odlanier Solis and flyweight Yuriokis Gamboa, won their gold-medal bouts. Two Russians also won golds. Alexei Tichtchenko beat Song Guk Kim of North Korea, 39-17, at featherweight, while Gaydarbek Gaydarbekov beat Gennadiy Golovkin of Kazakhstan, 28-18, in a middleweight bout.
Diving
Hu Jia overtook teammate Tian Liang on his next-to-last dive to win the 10-meter platform title, giving China a record sixth Olympic diving gold medal. Hu totaled 748.08 points to beat defending champion Tian in the last diving event of the Athens Games.
Copyright 2018 The Associated Press. All rights reserved. This material may not be published, broadcast, rewritten or redistributed. We strive to uphold our values for every story published.