Photographer: Richard Gwin
Camera: Nikon D1X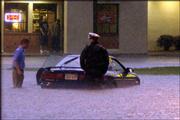 Lens: 80-200mm
ISO: 1,600
Shutter: 1/25
Aperture: f4.5
During Monday night's storm, I sat south of Lecompton watching between lightning strikes for a tornado coming from the Topeka area. I had my ear glued to 1320 AM, and I heard Hank Booth mention a possible tornado near the Bloomington area.
So, with heavy rain falling, I headed south toward Kanwaka corner, then to Clinton Parkway and Wakarusa, where I found a storm spotter looking skyward. I shot a couple of frames but wasn't satisfied.
Then I heard Booth talking about high water under the bridge in North Lawrence and on 23rd Street. I headed down 23rd and pulled into the old Furr's Cafeteria parking lot. I saw heavy water running through the lot, but I knew the water was even higher in the street, so I took the high route through the Perkins parking lot. I could see cars on 23rd Street with water up to their windows.
I pulled up to a Lawrence Police officer's car. He was at the curb, stepping off into thigh-high water. I really wanted to grab an umbrella and go with him, but lightning stopped me. So I sat in my truck and used a digital camera without a flash, which would have made the rain glow. Instead, you have to find an area with light on it from street signs or neon lights from business. It was in the midst of just such light that I found this picture.
-- "Behind the Lens" is an ongoing weekly series that features an image selected by the Journal-World photo staff that previously ran in the newspaper or online. Wondering how a certain picture was created? Nominate it for "Behind the Lens" by contacting chief photographer Mike Yoder at 832-7141 or myoder@ljworld.com.
Copyright 2018 The Lawrence Journal-World. All rights reserved. This material may not be published, broadcast, rewritten or redistributed. We strive to uphold our values for every story published.