Pastors have to do a lot more than just write sermons, preach and perform weddings and funerals.
They also need to be able to do things like prepare a budget, read financial reports and supervise volunteers -- tasks typically not taught in seminaries.
That's the reason for a new preministerial program being launched this fall at Baker University in Baldwin.
Baker will offer a 36-credit-hour Foundations of Church Leadership concentration, designed to prepare students for graduate training in church leadership, especially a seminary degree leading to ministry. Students of any academic major or faith may participate in the program.
Baker is affiliated with the United Methodist Church and has close ties to the denomination's Kansas East Conference, which includes United Methodist congregations in the Lawrence area.
"All during its history, Baker has sent students out into ministry work in all kinds of areas, but we have never had a plan for what's the best way to prepare you if that's what you want to do. This concentration is designed to give our students an organized plan to send them to the next step in church work," said the Rev. George Wiley, a professor of religion at Baker who helped develop the program.
The concentration will consist of 13 classes, half of which will also fulfill general education course requirements.
Classes will include oral communication, advanced public speaking, psychology or counseling and several religious courses, such as world religions, the Torah (Hebrew Bible) and New Testament.
The concentration -- in the works for 15 months -- is a blend of these existing courses, as well as several newly created ones: Designing Educational Programs for the Parish; What is a Pastor?; and Business for Leaders of Not-for-profit Organizations.
"It gives us something that will set Baker apart from some of our competing schools. State universities can't offer a program like this in religious leadership," said Wiley, an ordained Episcopal priest.
Unique asset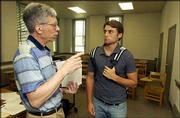 The Rev. Ira DeSpain, Baker's campus minister since 1992, worked closely with Wiley and Jamie Comstock, Baker's academic dean of the College of Arts and Sciences, to develop the concentration.
The courses in the program will be building blocks for later religious study that could serve a number of different church-related positions, such as pastor, youth leader, business administrator, director of music or director of church education.
"For those of us who are on the front line -- practicing clergy -- we need a wide variety of skills, and that's what this concentration is attempting to provide ... (to help students) develop the sets of skills that they will need to function effectively," DeSpain said.
"For me, it finally says out loud what people who work in a church for a long time have always known. What we do day to day is often more closely related to business or counseling or historical research than it is to theological interpretation."
DeSpain said he expected the program would grow slowly. Although it will be available to students this fall, the university is only now beginning to aggressively market it to Baker's incoming class of 2005.
The Kansas East Conference will help spread the word to congregations, and Baker is developing brochures and admissions information.
DeSpain said he believed the new concentration would give Baker something that few, if any, other universities now offer to students.
"George and I looked around, we did a Web search of all kinds of schools," DeSpain said. "There are some (schools) that have ministry training or different structures within the academic setting, but nothing that is interdisciplinary like this."
Real-world skills
The Rev. David Livingston, a 1995 graduate of Baker University, said he thought the concentration is a good opportunity for undergraduate students.
"One of the things I experienced at seminary was that a lot of the students simply weren't prepared for leading churches because they didn't have any background coming into it," said Livingston, associate pastor of First United Methodist Church, 946 Vt.
"Seminary focuses largely on theology. There's so much for people to learn that they have to focus more on the theoretical than the practical. This kind of classes (offered in the new program) would be helpful."
The concentration, he said, might also help young people to develop their sense of a call to ministry at an earlier age.
"There is a strong history of pastors coming out of Baker. There haven't been as many recently, so hopefully this will reinvigorate that tradition," said Livingston, who earned a double major in political science and philosophy at Baker.
He went on to earn his master's of divinity at the Saint Paul School of Theology in Kansas City, Mo.
Warren Vincent, a 20-year-old Baker senior from Tonganoxie who is majoring in religion, said the concentration was a great idea.
"Man, I wish this was offered a couple of years earlier. They're going to be studying religion on an academic level, but they're also going to be learning how to apply it and preach it and teach it. That's one of the biggest differences between a religion major and this concentration," he said.
"If this was here a couple of years ago, I would have taken it. For those who know they will be going to seminary, this is definitely something to look at."
Copyright 2018 The Lawrence Journal-World. All rights reserved. This material may not be published, broadcast, rewritten or redistributed. We strive to uphold our values for every story published.