Houston — The Houston Astros sure wish they'd play this way against everyone else.
Jeff Kent hit a tiebreaking three-run homer in the eighth inning, and the Astros beat Philadelphia, 7-4, Wednesday to sweep the season series from the Phillies for the first time.
"Hopefully, we can play everybody the way we've played the Phillies," Houston's Craig Biggio said. "If you're going to win a lot of games, this is the way you've got to do it."
Kent also connected in the second inning, and Carlos Beltran and Morgan Ensberg each homered. Houston went 6-0 against the Phillies and won for the eighth time in 10 games overall. The Astros' only other season sweep was against Montreal in 2001.
Kent's big swing in the eighth ensured another frustrating flight home for the Phillies. Manager Larry Bowa plopped down into his chair after the game, the dejected look on his face betraying the optimism in his voice.
Bowa has been doing the math on the Phillies' playoff chances and the numbers don't look good.
"Until the numbers tell you you're out, you're not out," an unusually subdued Bowa said. "But, obviously, there are a lot of people in front of us."
Philadelphia (62-65) has lost 11 of 15 and is three games behind the Astros (64-62) for sixth place in the NL wild-card race. The Phillies are three games under .500 for the first time since April 25, when they were 7-10.
"We've got to keep going and keep fighting," Jim Thome said. "It's been disappointing. When we do click, we just can't seem to keep it going."
Houston can gain more ground in the NL wild-card race starting Thursday with its three-game series at Chicago. The Cubs took two of three against the Astros last week.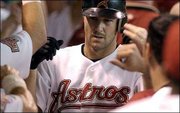 "We lost everything for the past couple of months," Jeff Bagwell said. "It's nice to see us turn around. I hope it's not too late."
The Phillies took a 4-3 lead in the seventh on Jimmy Rollins' run-scoring triple off Mike Gallo, but the Astros rallied in the eighth, when Felix Rodriguez (5-7) opened with walks to Craig Biggio and Jeff Bagwell. Lance Berkman singled home the tying run, and Kent homered to left.
With 267 homers as a second baseman, he moved past Joe Morgan for second on the career list at that position, trailing only Ryan Sandberg (277).
"When you get a win late it's an emotional uplift for everybody," Kent said. "We have to just keep this going now."
Chad Qualls (2-0) pitched a perfect eighth and Brad Lidge, Houston's fifth pitcher, got three outs for his 17th save in 20 chances, completing a five-hitter.
Pirates 2, D'backs 1
Pittsburgh -- Jack Wilson and Jason Bay hit consecutive home runs off Randy Johnson in the seventh inning, and Pittsburgh beat Arizona. Johnson (12-12) was working on a one-hitter and had retired 17 consecutive batters before Wilson, who also had a one-out single in the first, led off the seventh with his 10th homer, a career best.
Giants 6, Marlins 5 10 innings
Miami -- Rudy Seanez intentionally walked Barry Bonds to load the bases in the 10th inning, then couldn't throw a strike when he tried. Pinch-hitter A.J. Pierzynski walked on four pitches to force in the tiebreaking run, and San Francisco beat Florida.
Cardinals 6, Reds 5
Cincinnati -- Albert Pujols and Jim Edmonds hit two-runs homers, and pinch-runner Reggie Sanders scored the go-ahead run in the ninth inning on Joe Valentine's wild pitch to lead St. Louis over Cincinnati. St. Louis, which overcame a 5-2 deficit, improved the best road record in the major leagues to 41-20, beating Cincinnati for the 14th time in 18 games this season.
Expos 6, Dodgers 3
Montreal -- Brian Schneider hit a three-run homer and Montreal connected four times off Jose Lima. The NL West-leading Dodgers fell to 1-2 on their season-high 13-game road trip.
Braves 8, Rockies 1
Atlanta -- Chipper Jones homered twice and matched his career high with five RBIs, leading Atlanta past Colorado for its 19th win in 27 games. Eli Marrero also homered off Jeff Francis, who gave up six hits in his major league debut, three of them homers.
Padres 4, Mets 0
New York -- Brian Lawrence escaped a bases-loaded jam in the first inning and allowed just four hits the rest of the way, pitching San Diego over New York. Lawrence (13-10) threw a six-hitter for his second straight complete game, one night after David Wells came within an out of a shutout against the Mets. New York has lost four in a row, the last three to the Padres.
Cubs 4, Brewers 2
Chicago -- Corey Patterson hit a two-out, two-run homer in the bottom of the ninth inning Wednesday to give the Cubs a win over Milwaukee, Chicago's eighth victory in 11 games. Patterson connected on a 2-2 pitch off Luis Vizcaino (4-4).
Copyright 2018 The Associated Press. All rights reserved. This material may not be published, broadcast, rewritten or redistributed. We strive to uphold our values for every story published.