DETROIT — Jeremy Bonderman went to the mound planning just to throw the ball without thinking. That approach worked wonders against the Chicago White Sox.
Bonderman struck out a career-high 14, walked one and scattered seven hits in his first career shutout, leading the Detroit Tigers to a 7-0 victory Monday night.
"I totally just went to the basics and went after guys," he said. "I was not thinking about anything. I should've been doing that all year, but sometimes you get in a funk and you start thinking."
Bonderman (7-10) threw his first career complete game to win for the first time since July 7. He was 0-4 in his previous eight starts.
The 21-year-old right-hander was 6-19 last year after jumping to the majors following one season at Class A with Oakland's organization.
"He dominated," Chicago's Ben Davis said. "That's the best stuff -- hands down -- I've seen all year."
Bonderman was two strikeouts short of the club record -- done by Mickey Lolich twice in 1969. His 14 strikeouts were the most since Lolich struck out 15 in 1972. The last Detroit pitcher 21 or younger to throw a shutout was Dan Petry in 1980.
"We've seen signs of this," Tigers manager Alan Trammell said. "It doesn't anoint him, but it just goes to show you what we've been talking about, and why he deserves to be here.
"For a 21-year-old kid, that was pretty special. That's going to rank way up there among the better performances in Tigers history."
Carlos Guillen backed Bonderman's outstanding start with a two-run homer for Detroit, which has won five of seven.
Jose Contreras (11-6) lost for the first time since being acquired from the Yankees on July 31. He gave up five runs and six hits in five innings and walked a career-high seven.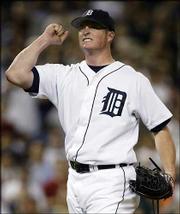 Contreras was so wild that several of his pitches hit the dirt before reaching the plate.
"He struggled with control," said Davis, his catcher. "It all starts with strike one, and he was falling behind guys."
Yankees 6, Indians 4
Cleveland -- Gary Sheffield hit a tiebreaking, two-run homer in the ninth inning, helping the Yankees send the fading Indians to their eighth straight loss. Tom Gordon (5-3) blew a lead in the eighth but still got the win. Mariano Rivera pitched a perfect ninth for his 42nd save.
Twins 7, Rangers 4
Arlington, Texas -- Johan Santana allowed one run in eight innings to win his seventh straight decision, and Minnesota padded its lead in the AL Central. Santana (14-6) gave up four hits, struck out 11 and walked one, helping the Twins win for the seventh time in eight games.
Kenny Rogers (15-6) allowed six runs and 10 hits in 52/3 innings for the Rangers, who have lost two straight following an eight-game winning streak.
Blue Jays 3, Red Sox 0
Toronto -- Ted Lilly struck out a career-high 13 in a three-hit shutout, stopping Boston's six-game winning streak and pitching the Blue Jays past Pedro Martinez and the Red Sox. Lilly (9-8) set a club record for strikeouts by a left-hander -- the previous mark of 11 was accomplished twice by David Wells and once by Al Leiter.
Reed Johnson hit a leadoff homer against Martinez (13-5), sending the last-place Blue Jays to their fourth consecutive victory.
Athletics 4, Orioles 3
Oakland, Calif. -- Jermaine Dye hit a tying two-run single in the sixth, and Adam Melhuse followed with a go-ahead single, leading Oakland over former teammate Miguel Tejada and Baltimore.
Tim Hudson (9-4) pitched 71/3 solid innings to win his second straight start, beating Baltimore for the second time in six days.
Tejada, who cried when he drove into the Coliseum parking lot for the first time in more than 10 months, went 0-for-3 in his first trip back to Oakland since signing a $72 million, six-year contract with Baltimore last offseason.
The 2002 AL MVP received a lengthy standing ovation when he came to the plate leading off the second inning, then reached on Eric Chavez's fielding error -- snapping a career-high 47-game errorless streak for the Gold Glove third baseman.
Devil Rays 9, Mariners 0
Seattle -- Scott Kazmir won his major-league debut with five impressive innings, and Jose Cruz Jr. hit a three-run homer to lead Tampa Bay.
Kazmir was acquired July 30 in a trade that sent right-hander Victor Zambrano to the New York Mets. Considered one of the top pitching prospects in baseball, the 20-year-old left-hander gave up four hits, walked three and struck out four.
Copyright 2018 The Associated Press. All rights reserved. This material may not be published, broadcast, rewritten or redistributed. We strive to uphold our values for every story published.