Paris — There was little bread and barely any butter. Without coal, electricity or gas, Parisians were cooking meals on camp fires in the streets.
By the summer of 1944, the French capital -- under the Nazi boot for four years -- was hungry, exhausted and seething with revenge.
Allied troops began rolling in on Aug. 24, and a day later, church bells tolled. The city was liberated. But preparations for Wednesday's grandiose celebration to mark the anniversary rekindled the memory of another Paris: on its knees and set to unleash its fury.
"There's so much that the French had been bottling up in hatred of their enemy," said David Wingeate Pike, a British World War II expert at the American University of Paris. "Paris had come to a humiliation it could never imagine before."
The average Parisian lost 44 pounds during the Nazi occupation, which began June 14, 1940, he said.
In those dire times, the elegant Jardin des Tuileries was covered with potato patches, and rabbit hutches replaced flower pots on apartment balconies to provide the prime ingredient for a coveted stew.
"Paris was starving, without lights, without bread, without clothes," recalled 80-year-old Madeleine Riffaud, a member of the underground Resistance at the time.
On July 23, 1944, Riffaud -- code-named Rainer -- volunteered to kill a Nazi to avenge the murder of a friend and "to show Parisians you can kill the occupier in broad daylight at 3 o'clock on a Sunday afternoon," she said in an interview.
Not quite 20, she shot to death a "handsome officer" walking on the Solferino Bridge, near the Orsay train station -- today the famous Musee d'Orsay.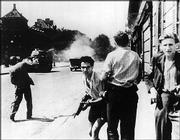 "I killed that man, but I had no hate for him, I assure you," she said. "I was afraid."
Riffaud, arrested, tortured then freed in a prisoner exchange, was among a minority actively working to subvert the Nazis. But her action was a sign of the rising fever taking hold within the underground and on the streets of Paris.
On July 14, nine days before Riffaud took aim, 100,000 people rallied in the streets, some singing the "Marseillaise," France's national anthem. For the first time, French police did not intervene.
Growing resistance
There are no solid figures on how many people belonged to the Resistance, with its many clandestine, even rival, networks. Pike, the historian, said a widely accepted ballpark figure is 100,000 Resistance members nationwide in 1943.
But small acts of resistance were part of everyday life.
Josette Maulet, 10 years old in 1944, remembered helping her mother listen to clandestine radio broadcasts.
"When my mother listened, I sang in the hallway so our collaborationist neighbor couldn't hear," Maulet said. The lady next door was known to consort with Nazi soldiers, she explained.
After the liberation, many women who had trysts with Nazi occupiers were paraded through the streets, their hair shorn to shame them and swastikas painted on their foreheads -- underscoring French anger at those who collaborated.
"Shameful" occupation
Food became scarcer after the U.S.-led Allied invasion of Normandy on June 6, 1944 -- D-Day -- with Parisians deprived of the staples that had trickled in from the Normandy countryside.
But the arrival of the Allies on French soil was, above all, a source of hope and a clarion call for Parisians to rise up. Orders for an insurrection went out from an underground Resistance bunker in southern Paris on Aug. 18. A day later, police officers in civilian clothes took over their headquarters. On Aug. 20, Paris City Hall was occupied.
Parisians rose to the cause because "the occupation was shameful," said retired Col. Maurice Courdesses, a veteran of the 2nd French Armored Division, which helped liberate Paris along with the 4th American Infantry Division. "This shame had to be washed away."
Copyright 2018 The Associated Press. All rights reserved. This material may not be published, broadcast, rewritten or redistributed. We strive to uphold our values for every story published.