Oslo, Norway — Armed, masked thieves burst into a lightly guarded Oslo museum Sunday and snatched the Edvard Munch masterpiece "The Scream" and a second Munch painting from the walls as stunned visitors watched in shock.
It was the second time in a decade that a version of the iconic "Scream," which depicts an anguished, opened-mouthed figure grabbing the sides of its head, had been stolen from an Oslo museum.
The thieves, who fled by car, also grabbed "Madonna," another priceless painting that along with "Scream" is part of Munch's "Frieze of Life" series painted in 1893-94, depicting themes of sickness, death, anxiety and love.
The two or three thieves, wearing black masks, threatened an employee of the Munch Museum with a handgun before grabbing the paintings, easily snapping the wires that attached them to the wall, witnesses and the police told The Associated Press and local media.
"He was wearing a black face mask and something that looked like a gun to force a female security guard down on the floor," one witness, Marketa Cajova, told the NTB news agency.
"What's strange is that in this museum, there weren't any means of protection for the paintings, no alarm bell," a French radio producer, Francois Castang, who saw the theft told France Inter radio.
A photo taken by a witness outside the museum appears to show three black-clad robbers, two of whom are walking to a small, black getaway car with the paintings in hand. The third robber appears to be opening the trunk.
Munch, (pronounced "moongk") a Norwegian painter and graphic artist who worked in Germany as well as his home country, developed an emotionally charged style of great significance in the birth of the 20th century Expressionist movement. He died in 1944 at the age of 81.
The stolen "Madonna" depicts an eroticized virgin with a blood-red halo in a dark, swirling aura. Munch later produced woodcut lithographs of a similar subject.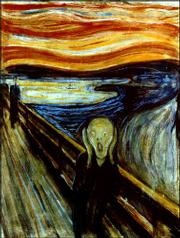 Munch made four versions of "The Scream," an image that has fascinated experts and the general public for decades. Art historians and amateurs alike have pondered the meaning of the enigmatic, seemingly bleak image, which over the years has found fame in the popular culture in serious reproductions but also cartoons and novelty items.
The Munch Museum had two of the "Scream" pictures; a private collector owns a third version; and the fourth is on display at Oslo's National Gallery. That version was stolen in February 1994 but recovered three months later.
"They were all painted by Munch, and they are all just as valuable," Munch Museum spokeswoman Jorunn Christoffersen told AP. "Still, these paintings are not possible to sell, and it is impossible to put a price tag on them."
However, Knut Forsberg, manager of Blomqvist Fine Arts, Norway's oldest auction house since 1870, estimated the value of "The Scream" at between $59.6 million to $74.5 million. But he agreed it would be impossible to sell either painting on the open market because of their notoriety.
"Most likely, the thieves will demand a ransom to deliver the paintings back," he said.
Copyright 2017 The Associated Press. All rights reserved. This material may not be published, broadcast, rewritten or redistributed. We strive to uphold our values for every story published.