Houston — After being plunked between the shoulders, Michael Barrett offered a few words of advice for Roy Oswalt when the Chicago Cubs and Houston Astros meet again next week: Watch your back.
Aramis Ramirez hit a three-run homer, Moises Alou also connected, and the Cubs beat Houston, 11-6, Sunday in the testy conclusion of a three-game series between the NL Central rivals.
Oswalt, Cubs pitcher Kerry Wood and manager Dusty Baker were ejected from the game after the right-handers plunked four players.
"I was a little disappointed in Roy," said Barrett, nailed in the back by Oswalt in the third inning after he allowed the homer to Ramirez. "I thought he was better than that. We're going to see him again."
Both benches emptied as Barrett jawed at Oswalt and approached the mound, but no punches were thrown, and the field quickly was cleared. Afterward, a warning was issued to both teams.
Wood, returning from a five-game suspension for arguing with an umpire, was ejected in the bottom of the fifth for hitting Jeff Kent with a pitch on the left arm. The right-hander already had hit two other Astros -- Mike Lamb and Carlos Beltran.
Plate umpire Bill Hohn threw Wood out of the game, and the two argued. Baker came out to argue the ejection and also was tossed by Hohn. The Cubs were leading 10-2 at the time, and Wood finished two outs short of earning his eighth win.
Wood denied intentionally trying to throw at Kent, saying he simply lost control of the pitch.
"Considering that I'm two outs away from the easiest win of my career, obviously I'm not trying to hit the guy," Wood said. "If I was going to hit somebody, I would have got him a lot better than that."
John Leicester (4-0) got the win for the Cubs, allowing three runs on four hits in 32/3 innings. He had one strikeout and one walk.
The Cubs (67-56) took two of three from the Astros (61-62) in a key series as both teams remain in the thick of the NL wild-card race. They will meet again for a four-game series at Wrigley Field starting Thursday.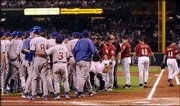 If this series was any indication, Houston is going to have a tough time overtaking the Cubs in the standings. Chicago was only a ninth-inning rally Saturday away from a sweep.
"This puts us in a bind," Astros manager Phil Garner said. "We're not out of it, but it's going to be tough."
Cardinals 11, Pirates 4
St. Louis -- Edgar Renteria capped a 13-pitch at-bat in the first inning with a three-run homer and matched his career high with five RBIs, leading St. Louis to victory over Pittsburgh. Larry Walker hit a grand slam, the seventh of his career and second in five days, in the eighth inning for the Cardinals, who have the majors' best record at 82-42 after winning 15 of 19. After a 6-2 homestand, the Cardinals are 40 games above .500 for the first time since the last game of 1985. St. Louis has won eight straight series and 14 of 15. Matt Morris (13-8) allowed two runs and 10 hits for the win.
Phillies 9, Brewers 6 (10)
Milwaukee -- Jason Michaels' RBI single snapped a tie, and Philadelphia scored five times in the 10th inning before holding off Milwaukee to earn a three-game sweep. Philadelphia entered the series following a seven-game losing streak, all at home, but the Phillies ended up sweeping the Brewers in Milwaukee for the first time. Felix Rodriquez (5-6), the fourth Phillies pitcher, pitched one inning for the victory.
Giants 3, Mets 1
San Francisco -- Barry Bonds hit a two-run homer in the first inning to support a strong effort by Kirk Rueter and help San Francisco beat New York. Bonds' 693rd career homer and 35th of the season highlighted a three-run first inning.
Expos 8, Rockies 2
Denver -- Juan Rivera homered and drove in two runs, and Ryan Church had three hits and two RBIs in his major-league debut as Montreal defeated Colorado. Rivera was 4-for-5 with three runs scored for the Expos, whose first five runs came with two outs.
Marlins 8, Padres 3
San Diego -- Carl Pavano pitched six solid innings, hit a home run and drove in two runs to lead Florida over San Diego. Luis Castillo also drove in two runs for the Marlins, who won six of nine games on their road trip. Pavano (14-5) allowed two runs -- one earned -- and five hits, struck out three and walked three. Guillermo Mota worked 22/3 hitless innings for his third save.
Braves 10, Dodgers 1
Los Angeles -- Chipper Jones' three-run homer capped an eight-run second inning, J.D. Drew hit a two-run double, and Atlanta beat Los Angeles to split a four-game series. Jaret Wright (12-6) won for the 10th time in 11 decisions, allowing a run and three hits in seven innings.
Reds 11, Diamondbacks 1
Phoenix -- D'Angelo Jimenez hit a three-run homer, and Sean Casey added a solo shot and an RBI double to lead Cincinnati's rout of Arizona. Adam Dunn also hit a run-scoring double, and Darren Bragg and Ryan Freel had RBI singles for the Reds.
Copyright 2018 The Associated Press. All rights reserved. This material may not be published, broadcast, rewritten or redistributed. We strive to uphold our values for every story published.