Cynthia Haines learned to appreciate theater and films at a young age while growing up in the New York City area. She recalls staying up at night as a young girl and using a flashlight to read Modern Screen and Photoplay Magazine.
Today, Haines has her own weekly radio show, "On Film," on National Public Radio affiliate KTEP in El Paso, Texas. During the show, she reviews films and interviews aspiring filmmakers and filmmakers. Haines is on a leave of absence from her teaching post in the Theatre Arts and Film Department at the University of Texas-El Paso.
Haines moved to Lawrence in March 2003 with her husband, Jim, who was named president and chief executive officer of Topeka-based Westar Energy. Haines says she spends a lot of time commuting to her job in Texas. But when at home, she enjoys researching westerns with Kansas themes such as "Topeka," "Dodge City," "Dark Command," "Red River," "Woman They Almost Lynched," "Renegade Girl," "The Jayhawkers," "Kansas Raiders" and "Quantrill's Raid."
Q: How did you get started collecting art from Kansas westerns?
A: I've always been interested in films as they related to history and when I wound up moving to Kansas and the Lawrence area I was just curious about what sort of films featured this area and what did they have to say.
Most of the films are post-Civil War about the effects the Civil War has on the West and also the conflicts between the homesteaders and the cattlemen and the Native Americans. So there's a lot of opportunity for drama, there's a lot of opportunity for chases and gunfights and it's been interesting. Of course, the history is distorted. I think to realize that so many of these films were showing overseas makes one wonder what the rest of the world seems to think about Kansas and the West and our violent past.
Q: What do these films reveal about the place Kansas holds in our national mythology?
A: The westerns definitely address the conflicts between Native Americans, the homesteaders and the cattlemen in Kansas. Films distort history and perpetuate myths and stereotypes. But I think one truth that is reflected on the screen is the indomitable spirit of the pioneers who chose to settle in Kansas.
Q: What are some of your favorite films featuring Kansas?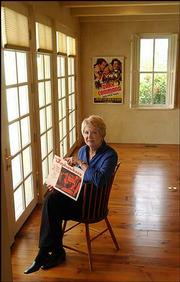 A: I think the ones I enjoy the most have to focus on the women; in particular, women who are associated with Quantrill.
And there's one entitled "Woman They Almost Lynched" that features his wife, apparently he did marry. I don't know how long he was married, but there was some rivalry between Quantrill and the previous boyfriend and the town and Quantrill's always the villain. He'd ride into town, terrorized everybody and so that was grounds for a conflict and that's a very amusing and entertaining story. Another was "Renegade Girl" that features a woman who seduced Union soldiers and turned them over to Quantrill. So I think I might be doing some research about how women were portrayed in these films and a lot of them were very strong, independent women who were featured and it wasn't just always a submissive wife who was back at the homestead. I mean these were women who carried guns and defended their land and so it's an interesting era in film history.
Q: Did Kansas take hold of the national imagination for a time?
A: Absolutely, I mean with the stories of Jesse James and of Bat Masterson, Dodge City, things that were going on in Abilene and Topeka. These were all titles of westerns that were set in Kansas. And I was amazed. I mean I was of the impression that the majority of these westerns were probably set in Texas, but a lot of them began in Texas with cattle drives north to Kansas.
So you know Kansas played a major role in terms of the history of the westerns, in particular of the '50s.
Q: What are your early impressions of the filmmaking scene in Lawrence?
A: I was fortunate to be able to attend a meeting with Kansas filmmakers, state legislators and the governor several months ago. I was impressed with the filmmakers who either wanted to continue working in Kansas or return to the state. I think Kevin Willmott has tremendous potential to put Kansas on the movie-making map. Much in the same way Richard Linklater and Robert Rodriguez have stimulated and supported the film industry in Austin and in Texas. I believe Kevin and his team can do the same not only for Lawrence but the entire state.
Q: What suggestions would you make to Kansas legislators?
A: Encouraging filmmaking in the state makes economic sense. I would provide incentives for people already working on commercials, industrial films and features in Kansas rather than spend too much money trying to attract business from Hollywood. Louisiana, New Mexico and even Canada have provided significant financial incentives for people to film in their areas. The competition is tough. I'd reward those people who have already invested in the states' film industry and who have a vested interest in staying in the Midwest.
Q: What defines a film for you?
A: It's all about the storytelling. Instead of gathering around campfires, we're now sitting in front of glowing movie screens, waiting for someone to make us laugh, cry, scare us, entertain us. If a film's story is not compelling, it's a waste of time. Unfortunately, that also means you've wasted $7.50 on a ticket. That's why there are movie critics.
Q: What makes or breaks a film for you?
A: Whether it engages me emotionally.
Born: Long Island, N.Y.Family: Husband, Jim Haines, president and chief executive officer of Westar Energy; daughters, Elise Farah, 27, and Alexa Farah, 25.Education: Bachelor's degree in communications from Stanford University, and a master's degree in English and American Literature from the University of Texas-El Paso.Career goals: To continue researching, writing and publishing and never get tired of watching movies.Grandest hope: That Ben Affleck considers a career change.Favorite Lawrence place: Liberty Hall theatre.Favorite musical styles: Country and Celtic.Favorite song: "Come From the Heart" by Kathy Mattea.If you know someone who would make an interesting feature, contact Greg Hurd at 832-6372 or ghurd@sunflowerbroadband.com.
Copyright 2018 The Lawrence Journal-World. All rights reserved. This material may not be published, broadcast, rewritten or redistributed. We strive to uphold our values for every story published.