Athens, Greece — Somehow, somewhere, Nicolas Massu summoned the strength and the shots to win his second gold of the Olympics.
That's twice as many medals as the entire star-studded U.S. tennis team managed.
Doing everything he could to buy time and beat exhaustion, Chile's Massu got past American Mardy Fish, 6-3, 3-6, 2-6, 6-3, 6-4, in an error-strewn singles final Sunday night that lasted four hours.
"He just kept getting better and better," Fish said, "and more untired."
Chile never had won a gold medal in any sport until Massu and Fernando Gonzalez won the doubles title in a match that lasted more than 31/2 hours and ended in the wee hours Sunday morning.
"The best two days of my life," said Massu, who didn't get to sleep until 6:30 a.m., 13 hours before his match against Fish began. "That's it. It's just amazing."
Gonzalez won the singles bronze, beating Taylor Dent of the United States. So the unheralded, unseeded Fish's silver was the only tennis medal for a squad that included Andy Roddick, Venus Williams and Martina Navratilova.
Gymnastics
Americans Terin Humphrey and Courtney Kupets took the silver and bronze medals on uneven bars, giving the United States its sixth and seventh gymnastics medals.
Emilie Lepennec of France won the gold. Two-time Olympic champion Svetlana Khorkina of Russia fell during her routine and finished last.
Humprhey and Kupets joined Annia Hatch, who won silver on the vault, as medalists in the event finals. The Americans also won silver medals in both team competitions and golds in both all-arounds.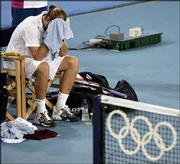 The seven medals were the most for the United States in a non-boycotted Olympics since 1932.
Softball
Lisa Fernandez pitched a three-hitter, and Crystl Bustos drove in two runs as the Americans rolled to their eighth shutout in eight days, beating Australia to put them in the gold-medal game.
Natasha Watley had three more infield hits, Kelly Kretschman homered, and the U.S. team (8-0) dominated again. The Americans have won 78 straight games since last July and have yet to yield a run in the Athens Games.
They've outscored their opponents 46-0 while allowing just 14 hits.
Later, Kerry Wyborn hit a three-run double, and Tanya Harding pitched her fourth shutout of the tournament as Australia beat Japan, 3-0, setting up a rematch today with the United States.
Baseball
Japan earned the top seed in the medal round by defeating Greece, and Cuba beat Italy to complete group play. The Cubans lost to Japan earlier, the difference in the seedings.
Beach Volleyball
Holly McPeak and Elaine Youngs beat the German pair of Stephanie Pohl and Okka Rau, 21-17, 21-17, and top-seeded Misty May and Kerri Walsh beat Canadians Guylaine Dumont and Annie Martin, 21-19, 21-14. It will be an all-American final today.
Boxing
Heavyweight Devin Vargas couldn't land the big punch he needed against Viktar Zuyev of Belarus, dropping a 36-27 decision in the latest in a string of losses for the U.S. boxing team.
Vargas would have been guaranteed at least a bronze had he won.
Three of the nine U.S. boxers remain in medal contention, and none has an easy road to the semifinal medal round.
Cycling
World champion Sarah Ulmer of New Zealand continued her dominance in the 3,000-meter pursuit, breaking her own world record to win the gold medal.
Equestrian
American show-jumping riders were solid in qualifying. Beezie Madden and Peter Wylde had problem-free rounds, putting the United States among the favorites for the gold when 16 countries compete for team medals Tuesday.
Women's Basketball
Katie Smith, the U.S. team's best outside shooter, reinjured her right knee early in a 100-62 victory over China. The initial diagnosis was a sprain, and Smith will undergo an MRI today. The win extended the U.S. winning streak in the Olympics to 22. The United States already had secured first place in Group B. Oxana Rakhmatulina scored 15 points to lead Russia, which already had secured a berth in the quarterfinals and closed out the preliminary round by shooting 56 percent (35-for-62) from the floor. Lauren Jackson had 24 points and seven rebounds for unbeaten Australia. Hana Machova scored 21 points to lead the Czechs over New Zealand.
Women's Volleyball
Desperate for a victory and in danger of an embarrassing elimination from the women's volleyball tournament, the United States finally played like a gold-medal contender. Logan Tom scored 19 points to lead the Americans to a win over Cuba and a spot in the quarterfinals. The Brazilians completed a perfect first round with a sweep of South Korea and will play the United States, the No. 4 seed from Pool B.
Wrestling
Patricia Miranda was the only American women's wrestler who didn't lose. Sara McMann advanced into the semifinals despite a loss, but U.S. standout Toccara Montgomery was hurt by a terrible draw at 1581/2 pounds (72kg). Montgomery was matched with five-time world champion Kyoko Hamaguchi of Japan in a blind draw, and lost, 8-4, costing her any chance of a medal.
Copyright 2018 The Associated Press. All rights reserved. This material may not be published, broadcast, rewritten or redistributed. We strive to uphold our values for every story published.