Kabul, Afghanistan — An American on trial for allegedly torturing Afghan terror suspects in a private jail claimed Saturday in his first interview from custody that he was hot on the heels of Osama bin Laden and other militant leaders when he was arrested on July 5.
Jonathan Idema told The Associated Press he had official sanction from Afghans and Americans to hunt down terrorists and said he has been prevented from showing the evidence in court. Prosecutors say Idema was waging a private war, and he faces up to 20 years in a crumbling Afghan prison if convicted.
"We would have had (renegade Afghan warlord Gulbuddin) Hekmatyar in 14 days or less. We would have had bin Laden in less than 30 days" had he and his team not been arrested, said Idema, a colorful former U.S. Army soldier who spent three years in jail in the 1980s for allegedly bilking 60 companies out of more than $200,000 in goods.
After the Sept. 11, 2001, attacks in the United States, Idema came to Afghanistan and was featured in several books about the war and the search for bin Laden. He has also worked with several western TV networks. He said he came to Afghanistan again earlier this year because he felt U.S. anti-terror efforts were failing.
At least four Afghan intelligence officials sat in on the 75-minute interview in a sparsely decorated room on the top floor of a building at the National Security Directorate -- Afghanistan's chief intelligence agency.
Idema accused the FBI of orchestrating his arrest, saying the agency was trying to cover up its own incompetence in hunting for terrorists.
But the U.S. government has described Idema as a vigilante working on his own. An Afghan government spokesman told AP that Idema had met with two top Afghan politicians. But there was no confirmation his mission was approved by either U.S. or Afghan officials.
Idema, Americans Brent Bennett and Edward Caraballo, and four Afghans stand accused of torturing about a dozen prisoners in their private jail.
FBI spokesman Bill Carter said Saturday the agency couldn't respond to the allegations.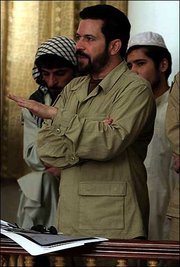 Copyright 2017 The Associated Press. All rights reserved. This material may not be published, broadcast, rewritten or redistributed. We strive to uphold our values for every story published.