Matt Pilgrim and his buddies set up shop every fall in a parking lot not far from Georgia's Sanford Stadium.
There's a 35-inch television with SurroundSound, balanced on a specially built rack in the back of a mammoth SUV. There's a large grill that sizzles with the sweet aroma of hot dogs, hamburgers and bratwurst. There's an ample supply of beverages -- usually Bud Light -- to wash it all down.
"A lot of times, if I don't have a ticket, I just stay outside," Pilgrim said. "The experience of being down there is usually as much fun as the game itself."
Welcome to Tailgate City, as much a part of college football as the Heisman Trophy and grumbling about the bowl system.
From Mississippi -- where women in formal dresses and men wearing ties congregate at the "Grove" -- to Washington -- where fans can party on boats docked near the stadium -- this has become the country's giant backyard. Friendships are renewed. Stories are swapped. And gargantuan amounts of food and drink are consumed.
The game, it seems, almost has become a sidelight.
"A lot of people I see tailgating are people I only see during football season," Pilgrim said. "They are my tailgating friends. What we like to do is put a cold beer in a coozie, go for a walk and see what the other guys have got to eat. We taste a little of this, a little of that. We ask them where they came from, how'd they get there. I like meeting people."
While no one is quite sure how this uniquely American phenomenon got started, tailgating has taken on a life of its own.
One man even has turned tailgating into a lifestyle.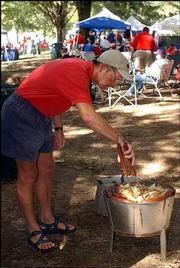 After Joe Cahn sold the New Orleans School of Cooking in 1996, he hit the road in his RV. While that doesn't sound so unusual, he veers off course from most retirees by spending the bulk of his time in stadium parking lots around the country.
The game is unimportant to the self-proclaimed "Commissioner of Tailgating."
"Up until about two years ago, I didn't know there was a game after the tailgate," Cahn quipped. "I just thought everyone was going to the bathroom."
This tradition is only as old as the automobile -- the name comes from picnics being served out of the tailgate of a vehicle -- but that timeframe neatly coincides with college football's burst of popularity.
These days, the parties are much bigger but the concept remains essentially unchanged, a rowdy throwback to a different time.
"It's my belief that tailgating is the last great American neighborhood," Cahn said. "This is a day and age where we don't pick up the phone without checking caller ID. This is a day and age where we don't even call people anymore; we e-mail them. We don't have socialization in our neighborhoods, where we walk around and talk to total strangers.
"When you're tailgating, you get to walk through thousands of backyards with no privacy fences. You can say hello to people, they'll say hello back -- and really mean it."
A totally unscientific list of some of the better college football tailgating schools, in no particular order:¢ LSU: Huge kettles of jambalaya and crawfish dominate the raucous pregame scene in Death Valley. Oh yeah, there's plenty of drinking, too.¢ Georgia: A huge number of RVs crowd around Sanford Stadium on game days. Some fans even do their tailgating in a nearby cemetery.¢ Purdue: Some of the most clever tailgaters, such as the fan who converted a coffin into a grill and ice chest -- and brings his contraption to the game in a hearse.¢ Notre Dame: One of the most storied settings in college football also is home to some truly lavish pregame parties. Tables are decorated with elaborate flower arrangements and formal place settings.¢ Penn State: One of the most spacious areas for tailgating, and some 40,000 people usually take advantage. Good ice cream, too, including "Peachy Paterno."¢ Tennessee: The "Volunteer Navy" is comprised of hundreds of ships that dock on the nearby Tennessee River on game days.¢ Washington: An even more expansive body of water, Lake Washington, is not far from Husky Stadium. Plenty of boats for "sterngating" and a seaplane drops in from time to time, too.¢ Texas: Everything's big in the Lone Star State, including the pregame party. Huge smokers cooking up whole sides of beef, tended by cowboy hat-wearing fans.
Copyright 2018 The Associated Press. All rights reserved. This material may not be published, broadcast, rewritten or redistributed. We strive to uphold our values for every story published.