Cincinnati — Carson Palmer gave Cincinnati fans reason to believe this could be a turnaround season for the Bengals.
"We can be very explosive. I think we showed that tonight," Palmer said. "If we stick with our game plan, and guys execute, that's what happens -- you put up 30 points."
Palmer passed for three touchdowns and set up another with a 48-yard pass to Chad Johnson as the Bengals scored on their first three possessions and beat New England, 31-3.
It was a breakthrough game for Palmer and a giddy night for Bengals fans, who cheered Palmer and running back Rudi Johnson. They booed former Cincinnati running back Corey Dillon, who was traded to the Super Bowl champs during the offseason.
Palmer played only the first half and was 12-of-19 for 179 yards. Tom Brady, New England's two-time Super Bowl MVP, also played a half and was 8-of-13 for 126 yards, with one interception.
"It was an ugly night," Brady said. "Hopefully, this isn't our team. It was a terrible performance all the way around."
Palmer led the Bengals to three quick TDs before New England's initial first down.
Rudi Johnson, who rushed 16 times for 76 yards, scored from the 1 to cap a five-play, 69-yard drive that included the long pass to Chad Johnson on the second play of the game.
The Patriots quickly gave the ball back to Cincinnati, and Palmer led a 56-yard drive that ended with a 13-yard pass to Tony Stewart, making it 14-0.
Dillon rushed 11 times for 31 yards.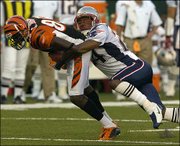 "I expected that from them," Dillon said of the fans. "I don't care about the crowd. I'm more than happy about being here. If I had the opportunity to do the same thing, I'd do it again."
Dillon, the Bengals' career rushing leader, became unhappy last year and provoked a trade to New England.
Browns 17, Lions 10
Cleveland -- After Cleveland failed to score a touchdown in its exhibition opener last week, Lee Suggs ran in untouched for two scores for the Browns. Jeff Garcia was 5-for-7 for 55 yards.
One of the few bright spots for Detroit was running back Kevin Jones, who gained 29 yards on six carries in his first action this preseason.
Lions quarterback Joey Harrington went 5-for-12 for 45 yards and a touchdown.
Redskins 17, Dolphins 0
Miami -- Mark Brunell directed two touchdown drives, and Washington controlled the ball for 41 minutes in a shutout.
The Dolphins (1-1) made five first downs -- none in the second half -- and totaled just 98 yards.
Titans 16, Bills 15
Orchard Park, N.Y. -- Willis McGahee scored in the second quarter after taking over for injured Buffalo starter Travis Henry, but Tennessee used a 22-yard field goal by Joe Nedney as time expired to beat the Bills (1-1).
Steve McNair played two series and went 8-of-11 for 93 yards. Titans running back Chris Brown, taking over for departed starter Eddie George, ran 10 times for 61 yards.
Steelers 38, Texans 3
Pittsburgh -- Jerome Bettis had 10 carries for 48 yards and a touchdown in Pittsburgh's exhibition win over Houston.
Texans quarterback David Carr completed seven of 10 passes for 67 yards under constant pressure.
Jets 31, Colts 7
Indianapolis -- New York's Chad Pennington completed his first 10 passes and threw for 169 yards and a touchdown.
For the Colts, Peyton Manning completed 6 of 12 passes for 85 yards with one TD and one interception. Edgerrin James carried 12 times for 62 yards. Colts receiver Troy Walters broke his right arm and may miss the rest of the season.
Packers 19, Saints 14
Green Bay, Wis. -- Darren Sharper returned an interception 90 yards for a touchdown in Green Bay's victory.
Saints quarterback Aaron Brooks aggravated his strained right thigh muscle while scrambling to the sideline.
Brett Favre completed 11 of 17 passes for 149 yards.
Bears 20, Niners 13
Chicago -- Brock Forsey scored on a go-ahead 2-yard run late in the third quarter and Chicago beat San Francisco.
The Bears took a 10-3 lead when Bryan Johnson recovered a fumbled punt at the 49ers 18. Adrian Peterson -- competing with Forsey for a spot -- then broke off a 15-yard run before carrying the final three for the TD with 6:28 left in the half.
Trailing by a touchdown, the 49ers reached the Bears' 25 in the closing minutes before rookie Nathan Vasher broke up a fourth-down pass.
Cowboys 21, Raiders 20
Oakland, Calif. -- Kerry Collins' one completion covered almost as many yards as Rich Gannon's seven. That's one reason why he might be a better fit in the Oakland Raiders' new offense.
Collins' 89-yard scoring strike to Doug Gabriel in the third quarter was the biggest play before Dallas rallied to beat Oakland on Tony Romo's 1-yard keeper.
After Dallas' first-team offense was kept out of the end zone for the second straight week, the Cowboys' backup quarterbacks -- Drew Henson and Romo -- engineered touchdown drives in the second half for Dallas (1-1).
Gannon was 7-for-15 for 92 yards, and Collins finished 1-for-5 for the Raiders (1-1).
After being shut out by Houston in the preseason opener last week, Dallas got three first-half field goals.
Vinny Testaverde took over the quarterback duties earlier in training camp after the Cowboys cut Quincy Carter, who took them to the playoffs last season.
Testaverde went 13-for-17 for 124 yards as the Raiders' rebuilt defensive line struggled to apply pressure on the 40-year-old quarterback. Drew Henson led Dallas on its first touchdown drive of the preseason, a 3-yard run by rookie Julius Jones.
Copyright 2018 The Associated Press. All rights reserved. This material may not be published, broadcast, rewritten or redistributed. We strive to uphold our values for every story published.