Minneapolis — Terry Mulholland was too smart for Cleveland.
The 41-year-old left-hander pitched six strong innings and shut down the Indians for the second time in a week, leading the Minnesota Twins to an 8-1 victory Saturday.
"He's amazing," teammate Justin Morneau said. "It just shows his experience and how he can pick up hitters' tendencies and use it against them."
Morneau and Torii Hunter hit consecutive homers for the first-place Twins, who opened a six-game lead over Cleveland in the AL Central.
Mulholland yielded one earned run in eight innings last Sunday at Jacobs Field, when Minnesota snapped the Indians' six-game winning streak with a 4-2 victory in 10 innings.
Cleveland, which pulled within a game of the Twins last Saturday, has lost six straight since. The Indians have been outscored 43-12 during their skid, and Minnesota has won five of six during that span.
"Going back-to-back against any team is pretty tough," Twins manager Ron Gardenhire said. "That got us feeling pretty good, and that's what this game's all about."
This time, Mulholland (4-6) allowed just one run and seven hits, striking out four and walking two.
"I tried to mix it up and take what I did in Cleveland last week and build on it," he said. "I made some adjustments and threw pitches in a different order."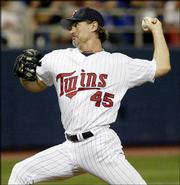 In their past six games, Twins starters are 4-0 with a 2.93 ERA.
"We had better at-bats against him, but the result wasn't much different," Cleveland manager Eric Wedge said. "We're still in this thing. We've proven that just by what we did over a week's time."
Cristian Guzman drove in three runs for the Twins, and Corey Koskie led off the eighth with his 20th homer. Koskie has a nine-game hitting streak, going 14-for-34 (.412) with five homers.
Chad Durbin (5-5), who had not allowed a run in 14 innings coming in, gave up six runs -- five earned -- in 41/3 innings. He lost for the first time since returning from the minors on July 24.
"Maybe we are pressing a little bit, but if we continue to press, the losses are going to continue to pile up," Cleveland's Matt Lawton said. "We've got to figure out a way to try to relax ourselves and try not to let this thing snowball."
Josh Phelps homered off Mulholland with two outs in the second inning to give the Indians a 1-0 lead. It was Phelps' 13th home run.
But Minnesota came right back with an unearned run in the bottom half. Hunter reached on third baseman Casey Blake's error, stole second on the next pitch and moved to third on Koskie's flyout. Guzman drove him in with a sacrifice fly to left.
Morneau hit Durbin's first pitch of the fourth inning 417 feet to right field for his 12th homer of the year. Hunter followed with a 415-foot shot to left, his 16th, to make it 3-1.
Red Sox 10, White Sox 7
Chicago -- Manny Ramirez homered and drove in five runs, Jason Varitek hit two solo shots and Boston beat Chicago for its fifth straight victory.
The streaking Red Sox battered Chicago pitching for the second day in a row and moved a season-high 17 games over .500. Boston is tied with Texas atop the AL wild-card standings. The Rangers defeated the Kansas City Royals, 5-3, Saturday night.
The slumping White Sox (60-60) fell to .500 for the first time since April 11, when they were 3-3. They lost for the fourth time in five games, all at home, and trail first-place Minnesota by seven games in the AL Central.
Bronson Arroyo (6-9) gained the win, giving up five runs and seven hits in 52/3 innings. Mike Timlin came in with two runners on in the sixth, yielded a wild pitch and a walk to load the bases, then fanned Carl Everett to end the threat.
Tigers 11, Mariners 10, 11 innings
Detroit -- Craig Monroe hit an RBI single with one out in the 11th inning, leading Detroit over Seattle. The teams combined for a Comerica Park-record 36 hits, including 21 by Seattle.
Rondell White led off the 11th for the Tigers with a single off Scott Atchison (1-1), and Carlos Guillen hit into a forceout, and then stole second. Monroe followed by lining a pitch to center field, and Guillen easily beat Randy Winn's throw to the plate, giving Detroit its third straight win.
Athletics 5, Devil Rays 0
St. Petersburg, Fla. -- Barry Zito scattered four hits over eight shutout innings, leading AL West-leading Oakland past Tampa Bay. Bobby Crosby, Marco Scutaro and Mark Kotsay homered for Oakland, which has won five straight. The Athletics have hit 14 homers -- including seven solo shots the last two days -- over the past for games. Zito struck out six and walked one to improve to 5-2 in eight starts since the All-Star break.
Angels 6, Yankees 1
New York -- Esteban Loaiza is pitching his way out of New York's rotation. Jose Guillen and Jeff DaVanon homered off the newest target of booing fans at Yankee Stadium, and Loaiza failed to make it out of the fourth inning. Anaheim, which has won four straight and 12 of 16, goes for a three-game sweep today, the finale of a six-game trip. The Angels held New York to just one run in the first two games of the series.
Blue Jays 10, Orioles 4
Baltimore -- Carlos Delgado homered and drove in three runs to key a 15-hit outburst, and Toronto handed Baltimore its fifth straight loss. Toronto had gone 36 straight games without scoring nine runs, but the Blue Jays followed Friday night's 14-4 rout of the Orioles with another blowout.
Copyright 2018 The Associated Press. All rights reserved. This material may not be published, broadcast, rewritten or redistributed. We strive to uphold our values for every story published.