Najaf, Iraq — Militants loyal to radical Shiite cleric Muqtada al-Sadr kept their hold on a revered shrine, and clashes flared Saturday in Najaf, raising fears that a resolution to the crisis in the holy city could collapse amid bickering between Shiite leaders.
An unofficial mediator pleaded with al-Sadr to disarm his militants, pull them out of the shrine and disband his militia immediately." We are in a race with time," said Hussein al-Sadr, a distant relative of the cleric.
Clashes between U.S. troops and al-Sadr fighters were brief but heavy, punctuated by gunfire and explosions, with one blast hitting the street 50 yards from the Imam Ali Shrine at the center of the standoff.
Marine Capt. Carrie Batson said U.S. troops came under mortar attack in the Old City and destroyed two militant mortar positions with gunfire and an Apache helicopter attack.
The fighting died down after about 45 minutes, returning the city to the relative calm that it has seen.
Still, the flare-up reflected the danger that peace efforts could fall apart once again, mired in last-minute delays. Al-Sadr's Mahdi Army militia still held the Imam Ali Shrine, their stronghold throughout this month's fighting, and while it has agreed to hand it over to Shiite religious authorities, the two sides were squabbling over how to do so.
Meanwhile Saturday, a series of attacks targeting U.S. and Iraqi forces across the country killed a U.S. soldier, a Polish soldier and five Iraqis. Militants have been using car bombs, assassinations, sabotage, kidnappings and other attacks in a 16-month insurgency aimed at destabilizing the country.
The violence in Najaf, which had spread to other Shiite communities, posed the greatest risk to the interim government of Prime Minister Ayad Allawi. Government officials had threatened to raid the mosque to set an example to other insurgent groups, but such an operation risked turning the nation's majority Shiites against the government.
The crisis appeared on the verge of resolution Friday, when insurgents decided to remove their weapons from the shrine and said they were willing to turn the holy site over to representatives of Iraq's top Shiite cleric, Grand Ayatollah Ali al-Husseini al-Sistani.
As of Friday, 949 U.S. service members have died since the beginning of military operations in Iraq in March 2003, according to the Defense Department.
Then, the handover bogged down Saturday amid arguments over its implementation.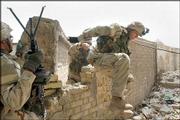 Copyright 2018 The Associated Press. All rights reserved. This material may not be published, broadcast, rewritten or redistributed. We strive to uphold our values for every story published.