Los Angeles — After getting off to one of the slowest starts of his career, Shawn Green has steadily been catching up to his more productive teammates.
Green hit a grand slam and a solo homer to lead the Los Angeles Dodgers past the Atlanta Braves, 7-4, Saturday, snapping Mike Hampton's string of seven straight wins.
The Dodgers' right fielder is batting .301 in his last 38 games with 12 homers and 33 RBIs, including a pair of solo shots Thursday night. Overall, he is hitting .266 with 22 homers and 72 RBIs for the NL West leaders.
Green had 91 homers and 239 RBIs in a two-year span before slumping to 19 homers and 85 RBIs last season because of an injured shoulder that required surgery in the offseason.
"I've worked hard, and I had faith that eventually it was going to turn," he said. "I dug myself a pretty good hole, as far as my personal season goes, but the team has been winning, so I knew I'd have a chance to contribute more as the season went on."
Jeff Weaver (11-10) won his fourth consecutive decision, allowing three runs and eight hits in seven innings. With two outs in the first, he hit three consecutive batters with pitches -- tying a major-league record.
Cardinals 10, Pirates 6
St. Louis -- Scott Rolen, Albert Pujols and Mike Matheny each hit home runs to lead St. Louis over Pittsburgh. Jeff Suppan (12-6) gave up five runs -- three earned -- and four hits in six innings as the Cardinals (81-42) moved to a season-high 39 games above .500 with their third straight win. St. Louis has won 14 of its last 18.
Astros 4, Cubs 3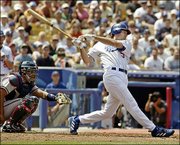 Houston -- Jose Vizcaino and Jason Lane hit RBI singles in the bottom of the ninth inning, and Houston won for the fifth time in six games. Jeff Kent led off the bottom of the ninth with a single and moved to third when Morgan Ensberg reached on a throwing error by third baseman Jose Macias. Kent scored on Vizcaino's single. After pinch hitter Mike Lamb reached on an intentional walk to load the bases, Lane singled to right, scoring Ensberg with the winning run.
Rockies 5, Expos 2
Denver -- Todd Helton homered, and Joe Kennedy won for the first time since June 20 as Colorado ended a three-game losing streak.
Phillies 8, Brewers 6
Milwaukee -- Chase Utley's bases-loaded triple keyed a six-run eighth inning, and Philadelphia rallied from a five-run deficit to beat Milwaukee. Geoff Geary (1-0) struck out two in a scoreless seventh inning to earn his first major-league decision.
D'backs 2, Reds 1
Phoenix -- Brandon Webb allowed one run in seven solid innings for his second win in 15 starts and also drove in the go-ahead run as Arizona defeated Cincinnati. Chad Tracy had an RBI double for the Diamondbacks.
Marlins 8, Padres 2
San Diego -- Josh Beckett pitched six strong innings for his first victory in more than three months and drove in his first run of the season with a double, leading Florida over San Diego.
Mets 11, Giants 9 12 innings
San Francisco -- Dustan Mohr allowed two runs to score when he dropped a fly ball in the 12th inning, and New York overcame a shaky return by Tom Glavine and a team-record six double plays.
Copyright 2018 The Associated Press. All rights reserved. This material may not be published, broadcast, rewritten or redistributed. We strive to uphold our values for every story published.