Oskaloosa — A year ago, Jefferson County was abuzz about gas.
Executives from big energy companies were spotted pawing through land ownership records in the Oskaloosa courthouse, looking for property owners to make rich.
They were going to do it by setting up mineral leases that would allow the companies to drill for coal bed methane gas, a type of natural gas that has become highly sought after as gas prices have continued to steadily increase.
At today's prices, a single well could pay a landowner $20,000 per year. With wells placed every 80 to 160 acres, farmers and ranchers in this largely agricultural county just north of Lawrence had visions of a cash bonanza.
Delia Heston, Jefferson County's register of deeds, said there seemed to be reason for excitement last summer. Energy executives were actively talking to area landowners. During a one-week period in March, about 250 mineral leases were filed with her office, by far the most in her five years there.
"But we really haven't seen them since," Heston said.
And the excitement has dimmed.
"I would like to see some of our people make some money off of this, but from what I hear, nobody is holding their breath right now," Heston said. "It is pretty quiet."
That's the attitude Karen Weishaar has about the lease she signed for her family farm in rural Nortonville. She said other family members also signed oil and gas leases and watched them expire without ever producing a big payday.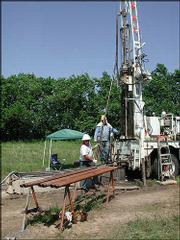 "I don't really think anything will ever come of it," Weishaar said. "If there is any gas here, I don't think there is enough for somebody serious to mess with."
Jefferson County wasn't the only area targeted. Most northeastern Kansas counties, especially those that are largely agricultural, have been the subject of coal bed methane speculation.
Energy companies turned their attention to northeast Kansas after efforts to find gas in southeast Kansas produced significant success. In the area around Independence, the industry is expected to pump about $60 million worth of gas this year, said Tim Carr, head of energy research at the Lawrence-based Kansas Geological Survey.
Value questioned
Now, however, there are indications the success in southeast Kansas won't be repeated.
Denver-based Evergreen Resources Inc. is one of the largest lease holders in northeast Kansas. It recently announced it was merging with Pioneer Natural Resources Co.
As part of the deal, Pioneer valued Evergreen's 766,000 acres of mineral rights at a paltry $15 million. Evergreen officials had said they thought the rights were worth at least $50 million. And the company announced in June it would seek to sell its northeast Kansas rights before the merger with Pioneer was finalized.
Uses: Coal bed methane gas can be used the same way as traditional natural gas. But unlike natural gas, coal bed methane is found in seams of coal beds. It is pumped from the ground using a device that looks like an oil well.Location: There are proven reserves in the southeast part of Kansas, near Independence. Some of the largest fields in the nation are in the Colorado Rocky Mountain Region and Powder River basin of Montana and Wyoming.Environmental concerns: Coal bed methane drilling has been controversial in some parts of the country. Environmentalists express concern about massive amounts of water pumped out of the ground as part of the process. The water often is salty and may contain other impurities that can alter soil and plant conditions.Profitability: Under a typical agreement, landowners would receive 12.5 percent of all gas sales from wells on their property. At today's prices, a single well could generate $10,000 to $20,000 per year for a property owner. Most energy companies seek to drill one well every 80 to 160 acres. Property owners also generally are paid between $10 and $20 per acre, per year for allowing a company to lease their mineral rights.
But earlier this month, Evergreen announced it had failed to find a bidder. Industry speculation is the rights now will be sold for $15 million to Pioneer. Evergreen officials did not return phone calls seeking comment.
Jim Osborn, president of Bucyrus-based Osborn Energy, said he wasn't surprised by the lack of interest.
Osborn is considered one of the risk-takers in the Kansas industry because he's looking for coal bed methane gas farther north than most companies. Osborn is drilling wells in Miami County, just south of Kansas City, and is cautiously optimistic about his chances for success.
A different situation
But he's not optimistic that coal bed methane production will move north of Miami County anytime soon. Despite the significant number of leases in Jefferson and Franklin counties, Osborn said he wasn't aware of any companies preparing to drill.
"Looking at the geological data and the proximity to pipe lines and that sort of thing, the area just doesn't impress us much," he said. "What I would tell landowners who are wondering about what will happen is that there's still a lot of work to be done. I don't think Franklin or Jefferson County are going to see anything anytime soon."
But Carr, of the Kansas Geological Survey, said landowners shouldn't write off their dreams yet. Test wells are being developed in Shawnee County and Nemaha County, he said.
"I think the jury is still out," Carr said. "We do have very good, established production in southern Kansas and we do know that it is creeping north.
"I think it could still be a great thing for people in this area, but whether or not it will be is still up in the air. It is just going to take time to know."
'We know' it's there
There is gas under the ground, said Nick Powell, president of Iola-based Colt Energy, which has been drilling in southern Kansas and keeping an eye on development to the north.
"We know the gas is there because people have done tests," Powell said. "The problem is that nobody has proven that it is economical to get to."
Part of the challenge in northeast Kansas is that wells will pump water for years to get to the gas reserves. The pumping can be costly, which causes exploration and production companies to look elsewhere, Powell said.
"I think there is reason to still be optimistic," he said. "But I would say that I don't think there is going to be a short-term boom. It could be four or five years before we really know what will happen."
The wild card
And there is at one big wild card that could affect production in northeast Kansas -- gas prices.
Powell said if prices continue to increase as expected, energy companies will get more aggressive in going after harder-to-get gas. Gas is trading in a range of $5 to $6 per thousand cubic feet. There's speculation those prices could double.
"If gas becomes $10 gas and stays there for awhile, that would make this a whole different deal," Powell said.
Even Osborn thinks northeast Kansas counties could become ripe for drilling given that situation.
"Lots of activity would happen at $10 gas, but the problem is it would include none of us being able to pay our gas bills and the economy probably would go in the tank," Osborn said. "But if $10 gas comes along, there will be more holes punched in Kansas than there are blades of grass."
Copyright 2017 The Lawrence Journal-World. All rights reserved. This material may not be published, broadcast, rewritten or redistributed. We strive to uphold our values for every story published.