Beijing — Known as the father of a two-decade-long economic boom and crusher of the 1989 pro-democracy movement at Tiananmen Square, Deng Xiaoping has an unlikely new role: pop culture icon.
His face beams from wristwatches and tea sets. He's the star of a popular Beijing exhibit. His hardscrabble hometown has been turned into a tourist attraction with a museum to his storied career.
To mark the 100th anniversary of the late supreme leader's birth today, China's government is pulling out all the stops to promote the image of the chain-smoking communist guerrilla.
"Along came Deng, and he gave all of our lives a big lift," said Hu Huijun, a 32-year-old Beijing magazine editor visiting the Deng exhibit at the National Museum.
The Communist Party pins its claim to legitimacy on rising public prosperity, and riding on Deng's coattails helps promote loyalty to the party at a time of public discontent with corruption and official abuses.
The propaganda campaign is a paradoxical fate for Deng. He disdained the cult of personality cultivated by communist founder Mao Zedong, whom he succeeded in 1976 but whose portrait still hangs in homes throughout the country.
Mao led the 1949 revolution that ended decades of chaos under feuding warlords and began China's opening to the West in the early 1970s. But it was Deng who took the leap toward capitalism that would transform China into a global economic power.
And, in a sense, Deng still rules from beyond the grave following his death in 1997, having picked not just his successor, Jiang Zemin, but China's current president, Hu Jintao.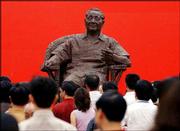 Copyright 2018 The Associated Press. All rights reserved. This material may not be published, broadcast, rewritten or redistributed. We strive to uphold our values for every story published.