Athens, Greece — Ahmet Oglu Tuncel understands that to put on a good face for Olympic tourists, police stop him from selling flowers on the sidewalks of the trendy Plaka district, where normally he makes enough money to pay for rent and food.
But what he cannot understand is why he is now homeless for lack of income. And why the police still roust him, his wife and their two children from sleep in the car they use as a bedroom along the streets of Athens.
"Every night, sometimes twice or three times, the police come and make us move," he says. "They say, 'It's the Olympics. We don't want the tourists to see you."'
For many in Athens, this has become their Olympic experience. The city is intent on showing off a rich history and culture -- and some claim it is desperately trying to hide its poor.
Government officials say the problems are not serious. Greek Minister of Communications Theodoros Roussopoulos says that because of strong families Athens has few poor, and those are housed in city shelters. Athens' homeless problem is about "no more than five or six people," he said, although statistics indicate a problem about 10,000 times that size.
Beyond that, he said keeping street vendors away from tourists only made sense.
"We have the same problems as other cities," he said. "They sell things from bags. Many are Chinese and they sell cheap things. It is a problem for the stores if they are selling fake Benetton. Of course during the Olympics, the police are more strict with them."
He said that after the Olympics, the city hoped to set up flea markets for street merchants. During the games, several have been closed down, if they are in areas where tourists might stroll.
Taking from the poor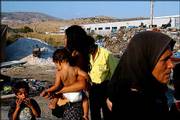 Giannis Dragasakis, a leader of the Greek leftist coalition in Parliament, does not think the problems are so easily solved.
"I think this is a problem with the whole Olympic movement," he explained. "It was supposed to be in the poor areas, and it has ignored them."
He added that while the people of Greece support the games, they will be paying the $7 billion it cost to prepare for the games for 30 years, and he hopes those costs don't decrease the amount of help they can offer their poor.
The Greek Helsinki Monitor, a group that studies poverty, has noted that the plight of many poor -- especially the Roma, or Gypsy population -- in Greece has remained unchanged for 30 years.
In a sense, these Olympics were taking from the poor before they began. Human rights groups insisted that Greece improve the lives of as many as 60,000 to 100,000 homeless, according to government and human rights agency statistics. That number is thought to have been living in tents or shacks near cities as recently as a year ago, existing without utilities and proper clothing. One such Roma community was on what is now the main Olympic venue, and has been replaced by stadiums, media centers and the Olympic flame.
Officials maintain that they solved the problems. As an Athens Olympic official stated: "These are not the middle ages. We do not move people without some place to put them. And the Roma people were offered a new place to live."
Gypsy camps
Thanisus Karahalios, 22, lives in a Roma camp northwest of Athens. He says that few Roma trusted the new community, so they did not go. Instead, they spread throughout Greece. Several families set up near him, in land of brown grass and olive trees, littered with both plastic trash and the scrap metal and wood he collects and sells to support the family. The camp is not far from a large refinery and the region's largest dump.
He now lives with six family members in a single-room shack built of scrap, with a hole cut into a plywood ceiling to serve as a chimney in the winter. They keep a refrigerator despite having no electricity because they can lock the bread in the refrigerator, away from mice.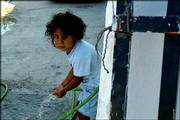 "We tried to take part in the Olympics," he said, explaining that his whole family loaded into a car and visited a venue, planning on buying a couple tickets. "The police told us we were not welcome there. They would not tell us where we would be allowed to buy tickets, and told us to go home."
As he talks from a salvaged cane chair, his mother and sisters are resting on a mattress spring box, covered with an old rug. Elena, 18, palms turned towards the heavens in exasperation, acknowledges that they are illiterate, but wonders why they must be treated as a disease.
"We are left out here, alone," she said. "No one supports us. No one offers us jobs. We are not a part of their Olympic celebration. They leave us to live like mice, and if they offer cheese, we know it must be a trap."
On the streets
Tuncel, who lives in his car, said that those suffering for the Olympics were not all Roma. He is Muslim, he says, but he is Greek, born and raised in the country. He said he had always been able to afford an apartment and food for his family. He wandered the evening streets selling flowers to young lovers and tourists on holiday. He said he could earn $60 a day, which was enough.
But since the spring, police have been cracking down, and he says they tell him it is part of an effort to clean up for the Olympics. These days, he is constantly shooed away from his potential customers, and he's lucky to bring home $18, meaning he's had to remove the seats from his car so that his family has a place to sleep at night.
'Games offer nothing'
Poor neighborhoods throughout Athens do look different. They are not plastered in Olympic rings and Greek flags. In one, the only Olympic symbols are the brightly colored banners on a subway bridge railing above on the main road. But those banners are facing in, for the benefit of commuters, and cannot be read from the street. Seniha Hussein, 42, snorts when asked if the Olympics will make her life better.
"Better? How?" she said. "They closed the flea market where we sell the things we find, the things the rich people throw away that the poor people are happy to buy. The Olympic Games offer nothing for us."
Makis Yerassimakis, 23, explains that he tried to be a part of the Olympic Games. He took what money he had, $600 and bought souvenir Greek flags and pins and balloons, and went to the opening ceremony to make a profit.
Instead, Yerassimakis said he was arrested, spent a night in jail and his items were seized.
"Is this their Olympiad?" he asked. "This is a catastrophe."
Copyright 2018 The Lawrence Journal-World. All rights reserved. This material may not be published, broadcast, rewritten or redistributed. We strive to uphold our values for every story published.