His honesty might have been his downfall, but Kansas University student Dylan Hilpman doesn't regret speaking his mind during his second unsuccessful "American Idol" audition in as many years.
The KU junior braved a line of 10,000 jittery pop hopefuls; dark, eerie St. Louis streets; sleep deprivation; and the ego-slaughtering honesty of the show's celebrity judges to try out for the fourth season of the Fox phenomenon.
Hilpman, a Lawrence native, made it to the third round of a grueling audition and interview process and into the 100-member pool of top contestants. That earned him a few minutes in front of the polite Paula Abdul, the scathing Simon Cowell and the "What's up dawg?"-spewing Randy Jackson.
Not bad for someone who has "the charisma of a wax dummy," as Simon described Hilpman during his audition.
"You're not moving at all," the grouchy Brit said.
"I was informed by security I would be tackled if I moved from this spot," Hilpman replied.
"Well this conversation is absurd," Simon concluded.
No kidding.
But defending his stone-stillness probably wasn't what got Hilpman in trouble.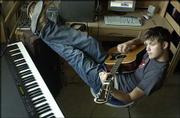 It was, more likely, his answer to the question, "What makes you the most talented kid in the United States?" (implying the next American Idol would, in fact, be the most talented kid in the United States).
"I said, 'I don't believe that "American Idol" is going to find the greatest talent in the United States.' And that didn't get my audition off to the best start," Hilpman recalls.
A befuddled Simon, Randy and Paula asked Hilpman what he meant.
"Well 'American Idol' runs the risk of setting itself up for a severe social backlash because society can get the perception that you're creating glorified karaoke singers as opposed to viable artists."
So, naturally, the judges wondered why this critic from Kansas would want to have anything to do with their show.
"Because I'm not a glorified karaoke singer,'" Hilpman told them. "Perhaps I should have said, 'Because I want to get my own music on.' There were so many more diplomatic ways that I could have phrased everything, but at the moment it just came out the way it did, and I felt comfortable with it."
All this before Hilpman had sung a single note.
Dream deferred
As it turns out, the judges hated his first song choice, Gavin DeGraw's "Chariot." His second attempt, Justin Timberlake's "Cry Me a River," got a "That was much better" from the panel.
Ultimately, though, it wasn't enough. Paula wanted to send the Lawrence native to Hollywood, but Simon and Randy put an end to his dream of following in the footsteps of Fantasia Barrino, Ruben Studdard and Kelly Clarkson.
"I didn't get into the show," Hilpman says, "but it was on my conditions."
The previous year, Hilpman auditioned in Houston and was cut in the first round, the same fate met this year by his girlfriend, KU junior Laura Fleming, who accompanied him to St. Louis.
Despite the stunningly clear fact that Hilpman doesn't REALLY want to be the kind of cutesy marketable pop icon "American Idol" seems to be craving, he's already planning to audition again next year. Why?
"I have this hope that if I get into the top 30, 150, whatever, that my music -- music that I write and believe in and work on all the time and feel passionately about -- will be heard. And that saves, who knows, 10 years of promotional work," he says.
"That might make your career. Just having your music heard by that large of a listening and target audience is an opportunity that, for me, is impossible to pass up."
Worth it
But for now it's back to the grindstone for the KU theater and voice major, who spends much of what little spare time he has mixing original jazz-pop-funk fusion in his Ellsworth Hall room.
He's almost always in rehearsal for a University Theatre production. Most recently, he played a leading role in the summer musical "Romance, Romance" and an ensemble character in "Cabaret." (Anyone who saw him sashaying and crooning in women's lingerie knows Hilpman is no "wax dummy.")
He has sung with KU's Jazz Singers and Chamber Choir, the top choral group at the university, and this year is gunning for a spot in Collegium Musicum, a KU choir that performs early period music.
So Hilpman's betting that -- just as in year's past -- he won't catch a wink of "American Idol" when its fourth season begins airing in January.
"I hope that I will be in rehearsals getting better, as opposed to watching other people perform," he says.
There's a chance, of course, that Hilpman could still make the show. Cameras rolled constantly during the audition process, and there's nothing stopping producers from using excerpts -- good or bad -- from his experience.
Despite the possibility he'll be taken out of context in front of millions of television viewers, Hilpman remains optimistic rather than bitter.
"I think I had a mediocre audition, but I stuck to what I believed in and was comfortable with. And that was a successful audition in one way," he says.
"I'm going to go back next year. It's worth every single moment that I spend."
Copyright 2018 The Lawrence Journal-World. All rights reserved. This material may not be published, broadcast, rewritten or redistributed. We strive to uphold our values for every story published.