When Kansas University junior Charli Johnson opened her mailbox July 2 and found a letter from a California law firm she thought it brought good news.
"My dad's a lawyer in California; I thought he had got me an internship," Johnson said.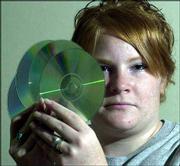 Instead the envelope from Mitchell Silberberg & Knupp contained a letter informing her she was being sued for sharing digital music files with fellow music lovers on the Internet.
"At first I thought it was a joke, but it's not a joke," Johnson said.
The Recording Industry Association of America, in an effort to crackdown on copyright violations, said it would sue Johnson for sharing 592 songs with others. The letter told her to accept RIAA's settlement offer or be sued for $750 per song. That's $444,000.
She called dad. His advice: Settle.
"I've read newspaper articles about things like this happening, but you really don't think something like this will happen to you," Johnson said.
Her parents are now about $3,000 poorer.
Johnson was not alone. In the last three months, the RIAA has notified 18 people in Kansas that they will be sued for sharing copyrighted music. To date, six of those 18 cases have been settled. RIAA sued, or threatened to sue, 4,000 people nationally.
Jonathan Lamy, a spokesman for the association, said most defendants were settling for an average of $3,000 each.
Johnson's case is separate from the two KU students who are being sued for shared music files on campus property that the Journal-World reported on previously.
Johnson completed her settlement about a week ago. As part of her agreement with the association, she is not allowed to say precisely how much she settled for, but she said the sum was close to the average amount.
"It was very stressful. I didn't know how I was going to pay for it ... I didn't know if I should tell my mom," said Johnson, who works part time to pay her own living expenses while in college.
Eventually, Johnson told her mom.
"At first she was upset, but then she realized I've burned plenty of CDs for her."
Johnson sighed as she recited the terms of the settlement: "The three things were the money, to destroy the music, and to sign a letter saying I won't share copyrighted music again."
The monthlong ordeal was costly to the family and stressful for Johnson, but she said it taught her a lesson.
"I don't think I will ever download a song again because I'd get caught again. I know I would," Johnson said, sifting through the pages of downloaded music the law firm sent her as proof of her crime.
Johnson doubts the lawsuits will stop music file sharing.
"I really don't know anyone who doesn't download ... I don't think other people will stop. I doubt it. I really do," she said.
Copyright 2018 The Lawrence Journal-World. All rights reserved. This material may not be published, broadcast, rewritten or redistributed. We strive to uphold our values for every story published.