In Bogue -- population 180 -- everyone is considered a neighbor.
So pretty much the whole town knew Thursday that Larry Thurlow's phone was ringing off the hook and why: He's in the middle of the controversy over presidential candidate John Kerry's military service.
Thurlow's service record had been examined that morning in The Washington Post. The newspaper reported that Thurlow's military records contradicted his allegation that Kerry's Swift boat was not under fire March 13, 1969, when Kerry rescued Lt. Jim Rassmann from the Bay Hap River in Vietnam.
Beginning at 6 a.m. Thursday, Thurlow was taking telephone calls from CBS, CNN, FoxNews, a variety of newspapers including the Journal-World, and "The O'Reilly Factor" television show.
"I had to call in to work and tell the guys I would see them tomorrow," said Thurlow, a former school teacher who works in oilfield service.
During an interview with the Journal-World, he stopped five times to take other calls.
"It's very crazy," said Thurlow's wife, Patty.
She said national media didn't seem to have a clue where Bogue was or how to get there. And now they wanted to bring in satellite trucks to do interviews in the small town.
Disputed records
Thurlow, who earned a Bronze Star in the same incident that garnered Kerry his, has widely asserted Kerry's award was bogus. He swore in an affidavit last month that Kerry was "not under fire" when he rescued Rassmann.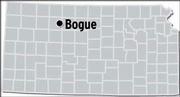 But Thurlow's records, obtained by The Washington Post under the Freedom of Information Act, include references to "enemy small arms and automatic weapons fire" directed at all five boats in the flotilla when Rassmann was rescued. In his own Bronze Star citation, Thurlow is praised for helping a damaged Swift boat "despite enemy bullets flying about him."
He is a leading member of Swift Boat Veterans for Truth, a public advocacy group of Vietnam veterans who have aired a television advertisement attacking Kerry's war record.
Thurlow said he felt compelled to tell people his version of what happened during the time he served in Vietnam with Kerry. He also is angry at Kerry for calling Vietnam vets nothing short of murderers during a congressional hearing in 1971.
Kerry "lied" about him and his fellow servicemen, Thurlow said.
"I couldn't support the man for dog catcher, let alone commander in chief," he said of Kerry.
Mixed reactions
Thurlow's claims have stirred opinions across the nation. And the same is true in Bogue.
Resident Tera Bamber, 19, said the controversy has split her family.
Her parents agree with Thurlow. But her grandparents don't -- and have been writing letters to the Kerry campaign apologizing for Thurlow's actions, she said.
"They're all pretty hardheaded," Bamber said of her family. "The conversations about this start and end really quick."
It can be frustrating for Bamber, who would rather hear the debate. Maybe then she could decide how to vote in her first presidential election.
Many in Bogue have the luxury of having heard Thurlow's claims previously.
"By and large, I think the controversy is kind of played down," said resident Bob Hooper, a longtime Thurlow friend who also happens to be a self-described "liberal" Democrat and vociferous critic of President Bush.
Despite their political differences, Thurlow and Hooper have worked together. Their families attend the same church.
"We've tipped a beer or two together," Hooper said of his pal. "He's a nice guy. Like all of us, he has a story of his own."
Who knows?
So it wasn't a surprise when Thurlow decided to tell America about the John Kerry he knew, Hooper said.
But while Thurlow is his friend, Hooper said he wasn't sure which version of what happened during the mission in Viet Cong-controlled territory is most accurate.
Kerry claims the boat came under fire and that he dodged bullets to help his fellow servicemen. His own crewmates support that version. Rassmann also has said the boat was under fire when Kerry saved him.
"Who the hell knows what happened?" Hooper asked. "It was 35 years ago. I was not at the scene, so I don't know what the truth is, and I'm not sure we ever will. I also don't think it's unusual that we have different versions of the story. What I will say is that I'm sure they are all sincere about what they saw and experienced."
Political matter
Still, Hooper said politics was territory he and Thurlow avoided sometimes when talking.
And he said he couldn't help but think some of what was going on with the Swift Boat Veterans for Truth was politically motivated.
According to reports filed with the Internal Revenue Service and information from opensecrets.org, a Web site that monitors political contributions, the veterans group now attacking Kerry received $158,750 during the second quarter of 2004. People affiliated with the group include retired Rear Adm. Roy Hoffman; Houston attorney John O'Neill, who debated Kerry in 1971; and Merrie Spaeth, a former press officer for President Ronald Reagan and an adviser to Whitewater prosecutor Kenneth Starr.
But Thurlow said political affiliations in this case didn't matter.
"This is a matter of truth," he said. "President Bush doesn't tell us what to do. This is an issue we felt so strongly about that we wanted the public to know. I know to some people it may not make a difference. But it does to me."
---
J-W wire services contributed to this article.
Copyright 2018 The Lawrence Journal-World. All rights reserved. This material may not be published, broadcast, rewritten or redistributed. We strive to uphold our values for every story published.