Paulina Cooper appears to be a typical 6-year-old little girl.
She goes to sleepovers, loves to jump on her trampoline with her 4-year-old brother and is quite excited to be in the first grade. "I can say my ABCs," she bragged.
But she's smarter beyond her years when it comes to her medical history. "There's my brain tumor," she said, pointing at the results of one of her many MRIs, showing a 40-cubic-centimeter, egg-shaped mass in her brain stem.
The location of the mass rules out surgical removal, leaving Paulina's parents with little choice than to try to treat their daughter with experimental medications.
Rare cancer
A year ago, Paulina was diagnosed with one of the most deadly forms of children's cancer after her parents noticed she seemed to be falling down a lot and was having trouble hearing.
"It's called an intrinsic pontine glioma; it's rare," Paulina's mother Ann Cooper said. "Only about 200 tumors a year of this type are diagnosed in children."
Doctors told the Coopers their oldest child only had a 2 to 10 percent chance of surviving.
"When you first find out, your world is going along normal -- a perfect, happy little world -- and in a minute it just shatters," Ann Cooper said. "The pain that you feel is just indescribable. It's just so tough."
Success, regression
Shortly after Paulina's diagnosis in August 2003 she underwent six weeks of radiation, followed by chemotherapy. The treatment was successful in reducing the size of the tumor.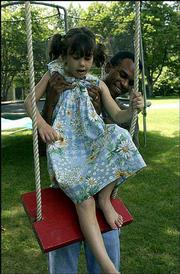 "The radiation was really successful," Paulina's dad James Cooper said. "There was initially an 80 percent reduction in the tumor size, so we were pretty excited."
Then came the day the Coopers will never forget.
"It was Good Friday, 3 o'clock in the afternoon," Ann Cooper said. "I remember that." The tumor was growing back. It had tripled in size. Doctors couldn't operate on the malignant mass because of its location in the brain stem.
The Coopers decided to put their faith in experimental medicine.
"It was pretty much the only option, other than doing nothing," James Cooper said. "We knew it was definitely worth taking a chance."
Monthly trips
After much research, Paulina was accepted into a 13-month clinical trial at Children's Memorial Hospital in Chicago. She takes an experimental chemotherapy drug in pill-form at home and then travels with her mom and 7-month old sister every 28 days to Chicago so doctors can determine how she's responding to the medicine. Insurance doesn't cover the cost of the experimental treatment, nor the monthly airfare to and from Chicago.
Paulina's father believes the out-of-pocket costs are well worth it.
"We don't know how much time we have," he said. "The odds are not good at all. We're just praying we're in that percentage."
Paulina has been participating in the clinical trial for the past three months. Each trip to Chicago the family receives the same news: "the tumor is stable with minimal growth."
Lingering fears
From recent symptoms she's seen in her daughter, Ann Cooper fears they may receive some bad news when the head to Chicago in less than a week for another MRI and blood work.
But Paulina doesn't feel sick and said she doesn't like going to the doctors where she gets pricked with needles. "I feel great," she said.
And even though Paulina is only 6 years old, her parents believe she realizes how serious her condition is.
"She talks about life after death, and she'll say I can't wait to get to heaven to sit on God's lap," Ann Cooper said.
As difficult as it is, the Coopers try to focus on the positive, including the outpouring of support from the community.
"We've had tremendous support," Ann Cooper said. "It's just been phenomenal."
Friends of the family recently collected enough money to pay for six months of airfare for Paulina and her mother to travel to Chicago, and Ann's co-workers in Overland Park created a cookbook, complete with illustrations by Paulina, to raise money to offset the family's medical expenses. To date, they've sold more than 250 copies of the "Celebration of Life" cookbook.
Time together
In the meantime, the Coopers are spending as much quality time together as they can cram into each day. Paulina only attends a half-day of school each day. Her mom said that's mainly for selfish reasons.
"We want to spend as much time with her as possible," she said.
Paulina is looking forward to a daddy-daughter date this weekend. "I just want to spend time with my daddy," she said, while sitting on his lap.
James Cooper calls his daughter his hero. Her strength has not only inspired him, but her situation has changed his outlook on life.
"It's made me realize just how fragile life is," he said. "You think you're guaranteed a certain amount of time -- to see this happen to someone so young, it's sobering. Our goal now is to make her quality of life the best it can be, and we realize that every moment is precious."
Copyright 2017 The Lawrence Journal-World. All rights reserved. This material may not be published, broadcast, rewritten or redistributed. We strive to uphold our values for every story published.