Some Kansas University students coast through college with no trouble.
Others have their car-windows smashed, stereos stolen, checks forged, or unlocked apartments entered by strangers in the middle of the night.
Or they get a face-to-face introduction to a prosecutor after using the curb as a urinal, trying to buy beer with a fake ID, or getting caught with what's always described on police reports as "green, leafy vegetation."
Overall, Lawrence is what many students think it is: a relatively peaceful, open-minded college town. But students do go to jail, and each school year brings an assortment of crimes ranging from auto burglaries to sexual assaults and shootings.
"Students can't just leave their doors and windows unlocked," said Sgt. Dan Ward, a Lawrence Police spokesman. "They have a tendency to believe that Lawrence is crime-free, and no place is crime-free."
Here's some advice for KU students who want to keep from being victimized and avoid spending part of their college career behind bars.
A KU student from Hong Kong learned that lesson Friday night when she left a wallet on an amplifier at The Bottleneck, 729 N.H. According to a police report, she turned around and began dancing with her back to the wallet, which contained $700 cash and a $22,000 check written out to KU.
When she looked again, it was gone.
Also this week, a report surfaced at the Police Department that someone had forged 11 checks around the city belonging to a 22-year-old female KU student. Police say forgery is a common way for people with drug problems -- and there are plenty in Lawrence -- to get quick cash.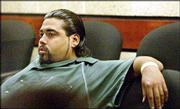 Use the restroom, please.
Public urination is a violation of city code that usually carries a fine of between $50 and $100. At least one person, a 21-year-old Lawrence man, was arrested for it this week. Also, public consumption of alcohol, even for legal-aged drinkers, usually carries a $100 fine in municipal court.
Rape Victim-Survivor Service, offered by GaDuGi SafeCenter: 843-8985.Lawrence Police Department: emergency, 911; non-emergency, 832-7650. Crime statistics available online at www.lawrencepolice.org.KU Public Safety Office: non-emergency phone, 864-5900. Daily crime log available online at www.ku.edu/~kucops.
Don't leave valuables in your car. The parking lots of some of Lawrence's biggest student apartment complexes are a virtual shopping mall for auto thieves. Car stereos, CDs, speaker boxes, amplifiers and subwoofers are among the items most commonly stolen.
If you use a fake ID, be prepared to pay the consequences. Bouncers, police and clerks are especially alert this time of year.
"We took six on Saturday night alone," said Jeff Jensen, owner of Jensen Retail Liquor, 620 W. Ninth St., who has a stack of about 30 IDs confiscated in the past month or so. "If they come up with the Mickey's and Boone's Farm combo, it's a good chance you're going to want to card them and be a little more suspicious."
Police seized two fake IDs Friday night at The Hawk, 1340 Ohio. At least one person, a 19-year-old Leavenworth man, was arrested. He posted $200 bond and must appear Sept. 1 in Municipal Court.
Being a minor in possession of alcohol -- the dreaded "MIP" -- carries a mandatory $300 fine, plus a suspended driver's license for 30 days.
If people want to enter a diversion program to keep the offense off their record, they can pay $300 plus $85 for a day-long alcohol education course on a Saturday.
"It ruins their Saturday," city prosecutor Jerry Little said.
If you get a ticket, deal with it.
"The biggest problem we see with students who maybe get a speeding ticket or run a red light is that they don't do anything about it," Little said. "They think nothing's going to happen. Next thing they know, their license is suspended and they get stopped driving on a suspended license, and they're facing jail time. ... It just snowballs."
1.
Armed rape: An unknown man armed with a gun entered a female KU student's unlocked residence early July 14 and raped her. It happened in southwest Lawrence, but police never released the address or block number, saying it could identify the victim.2.
190-pound pot bust: Lawrence Police intercepted 190 pounds of Mexican marijuana valued at an estimated $200,000 on Aug. 2 when a California man came to pick up the package at a local shipping business.3.
Hacker strikes: KU notified the FBI in April that the security system of a server at Watkins Student Health Center pharmacy was breached. The server contained information on every patient receiving a prescription at KU for the past decade. So far, no one has reported being the victim of identity theft because of it, KU officials say.4.
Bank robberies: In late December, the FBI arrested former KU student Jeffrey R. Cox alleging that he pulled three armed bank robberies in Lawrence between February and December 2003. Charges are pending.5.
It's Brothers shooting: As downtown bars closed Oct. 5, Jason A. Tremble, 21, Topeka, walked down Massachusetts Street firing bullets into the pavement outside It's Brothers Bar & Grill, 1105 Mass. Tremble's attorney later said he was showing off for friends. Tremble received a 3-year sentence despite having a lengthy criminal history.6.
Parking-lot assaults: Oct. 3, a man wearing a ski mask and holding a knife grabbed a female student as she walked in the Lied Center parking lot. In February, a man waved a knife and threatened a female student in the GSP/Corbin parking garage. KU announced this month it was adding security cameras in residence hall lots.7.
Robbery outside the Hawk: An intoxicated student was robbed at gunpoint as he sat on the ground Sept. 20, 2003, outside The Hawk, 1340 Ohio.8.
Student attacked: On Sept. 17, 2003, a man grabbed a female student at 11th and Tennessee streets as she was walking home. He groped her and pushed her to the ground but left after she fought him off.9.
Fake ID raid: On Aug. 21, 2003, police seized a printer, scanner and documents in a fake-ID raid of a sixth-floor Naismith Hall suite. Freshman Scott Joe Bernstein said he and his friends were just trying to live "the American dream" but never used any of the IDs."Ours weren't even really that good. Like, they were terrible. That's why we stopped," he said.10.
Stranger in the house: In summer 2003, at least six female students reported waking up to find a strange man in their bedroom. In one case, a woman said the man touched her inappropriately. No one was charged in those cases, but earlier this year a 20-year-old Lawrence man admitted doing a series of similar burglaries at students' apartments in 2002. He blamed it in part on a drinking problem.
KU public safety office
Copyright 2018 The Lawrence Journal-World. All rights reserved. This material may not be published, broadcast, rewritten or redistributed. We strive to uphold our values for every story published.